Motorists in Metro Manila are probably not surprised--or even amused--with this news. But this is one of the takeaways from Waze's first-ever "Global Driver Satisfaction Index." Numerical scores from 10 to 1--with 10 being "satisfying" and 1 being "miserable"--were assigned after examining 50 million Waze users in 32 countries and 167 major city areas.
According to the GPS-based navigation app's blog, the Driver Satisfaction Index is based on the following factors:
* Traffic level by frequency and gravity of traffic jams;
* Road quality and infrastructure;
* Driver safety (based on accidents, road hazards and weather);
* Driver services (access to gas stations and ease of parking);
* Socio-economic factor (according to World Bank, and includes access to cars and impact of gas prices); and
* "Wazeyness" (or how helpful and happy the users are within the Waze community).
"On a city level, Manila reported the worst traffic on earth, with Rio de Janeiro, Sao Paulo and Jakarta not far behind," according to the blog. Countrywide, however, Indonesia has the most number of cities (eight) with a miserable driving experience.
ADVERTISEMENT - CONTINUE READING BELOW ↓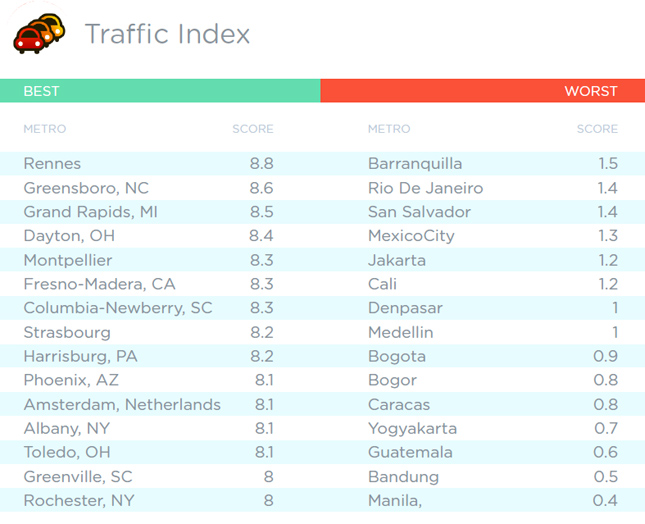 TopGear.com.ph looked at the index's drilldown per country and per metro. We've even compiled our beloved country's scores below. Note that the figures reflect the Philippines as a whole and not just Metro Manila.
It's surprising that, in terms of "road quality," our roads aren't the worst in the world. With a score of 5.8, the Philippines is one of the worst, but some countries like Romania (0.6) and El Salvador (0.8) apparently have it worse. It's also interesting that our safety index is one of the best. Where did that come from?
ADVERTISEMENT - CONTINUE READING BELOW ↓
Recommended Videos
The Netherlands and Latvia seem to be the best countries to live in if you love driving, having a satisfaction index of 7.9 and 7.3, respectively. Despite being one of the highly populated countries in the world, the Netherlands has the least amount of traffic.
Here are the scores of the Philippines:
| | | |
| --- | --- | --- |
| Key factor | PH score | One of the best or one of the worst? |
| Traffic index | 0.4 | The worst. Runner-up is Guatemala with 0.6. |
| Safety index | 9.3 | One of the best, ranking fourth after Argentina, Netherlands and Costa Rica. |
| Driver services index | 10.0 | The best. Argentina comes in at #2 with a score of 8.9. |
| Road quality index | 5.8 | One of the worst. |
| Socio-economic index | 0.0 | The worst, followed by El Salvador with a score of 0.5. |
| Wazeyness index | 3.4 | One of the worst. We share the same score as Spain. |
Check out the "Index Drilldown by Country" here, and the "Index Drilldown by Major City Area" here. Let's hope our scores get better through time!
Image from Waze's Facebook page