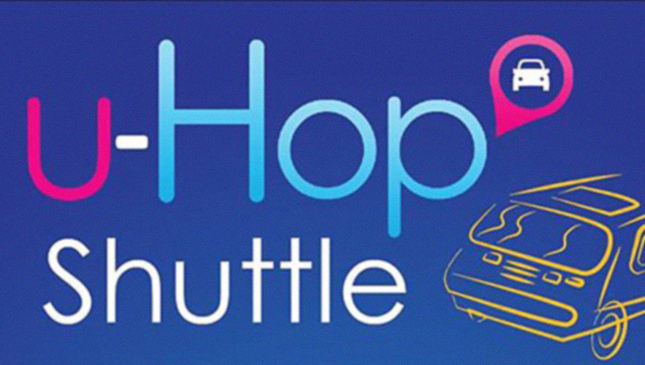 Heads-up, commuters! There's a new transportation network company looking to ply our city streets, this time with shuttles and vans. It's called u-Hop, a TNC shuttle service that looks to offer Filipino commuters a more convenient and safer alternative to traditional forms of public transport such as buses and the MRT. "Public transport" and "convenient" in a single sentence? Pinch us, we must be dreaming.
No more lines and no more robberies! Most important, there's the cool blast of a working air-conditioning system during your daily commute.
The system is simple: Interested parties simply sign up for the app-based service online and are given the choice of whether to pay for the service on a weekly or monthly basis. You can even pay for rides with a card provided to you, which is loaded in the same way you would load a cell phone.
Passengers then use the app to specify a pick-up location (you can be picked up and dropped off at your own residence), after which the app will consolidate other nearby users into a single vehicle. Take note: Because it's a shuttle service, you will only be able to choose specific pick-up times provided to you. Convenient and efficient round trips to and from our workplace? Count us in!
ADVERTISEMENT - CONTINUE READING BELOW ↓
ADVERTISEMENT - CONTINUE READING BELOW ↓
Recommended Videos
Below are service packages members can avail of:
* Weekly round trip - P693
* Monthly round trip - P2,970
* Weekly unlimited ride - P1,400
* Monthly unlimited ride - P6,000
If you're worried about the quality of vehicles, u-Hop officials say they will only be accepting operators with vehicles from 2012 and above. CCTV cameras and a GPS system will be installed, which will relay data to a u-Hop command center for security and tracking purposes. Driver-wise, applicants must submit to a medical and drug test, as well as a written exam and a thorough background check. The service currently has 300 vehicles ready for operation, with an additional 1,700 shuttles awaiting approval.
The u-Hop service has already been given the go-signal by the Land Transportation Franchising and Regulatory Board, but the company is still waiting for a copy of the certification. If realized to its full potential, the concept could serve as a wake-up call for PUVs to step up their game and provide better services. But for now, we're just glad someone's offering an alternative to the run-down buses and vans we take on a daily basis--albeit at a premium.
ADVERTISEMENT - CONTINUE READING BELOW ↓