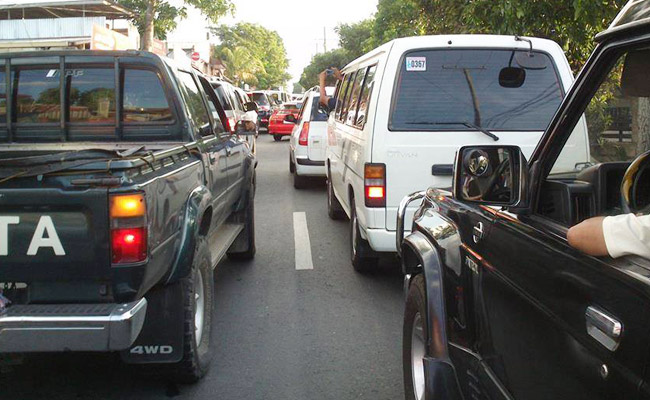 We're sure that when you're stuck in traffic, you wonder about many things. Like perhaps how the traffic situation in our country compares with those in other parts of the globe. Well, we have bad and good news for you.
The bad news is that Manila is the 12th-worst city in the world when it comes to traffic conditions. The good news? Well, the good news is that there are 11 other cities on this planet that have it worse on the road. This is according to the latest database of Numbeo, a website that collects global statistics including costs of living, crime rates and pollution indices, among others.
The ranking is arranged based on a combination of factors, including the average time spent by a commuter on a one-way trip. According to Numbeo's index, the average time it takes a commuter to reach a destination in Manila is 53.82 minutes. Other factors considered are public dissatisfaction, traffic inefficiencies and carbon-dioxide emissions.
Now, it isn't very clear to us if by "Manila," the website really means Manila City--as in the city whose mayor is Joseph Estrada--or the whole of Metro Manila, which is what many foreigners consider as Manila. Whatever the case, it doesn't make much difference to us. We feel like the traffic volume in Manila is just about the same as that in Quezon City or Parañaque.
Continue reading below ↓
Recommended Videos
Anyway, like we said, there are 11 cities deemed worse than Manila when it comes to traffic conditions, and these are (in ascending order) Jakarta, Denver, Pretoria, Recife, Tehran, Miami, Kolkata, Cairo, Pune, Nairobi and Mumbai (worst). In case you didn't notice, that's three Indian cities worse than ours (a thought that should prove useful in times when you're looking for some consolation for sitting motionless somewhere in the metro).
Check out the table below for a more comprehensive listing. We took out the column for carbon-dioxide emissions. If you want to see it, click here.
Before you scan the table, we'd like to point out that Numbeo also has a traffic index by country. In this listing, the Philippines is the ninth-worst country in the world when it comes to traffic. As with the city index, at least we can take solace in the fact that there are eight other nations worse than us (in ascending order): South Africa, Iran, Jordan, Nigeria, Bolivia, Bangladesh, Egypt and Kenya (worst).
What we find weird is that, as a country, the Philippines is worse than India, which occupies the 13th spot in the country index--in spite of the latter having three entries in the 10 worst cities in the world (not to mention the Philippines having only one in the entire index). Go figure.
Photo from Chris Cumpio