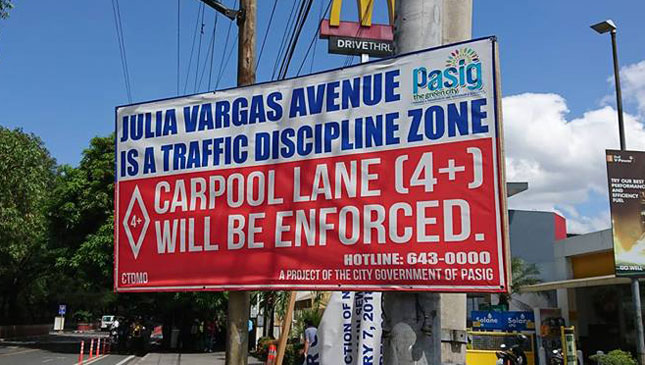 Remember all the uproar last year about the high-occupancy vehicle lane along EDSA? Well, the powers that be are at it again this year, this time with a similar idea along Julia Vargas Avenue.
Dubbed the 'Apat Dapat' scheme, the new rule dictates that only private vehicles with four or more passengers, as well as taxis and PUVs, can travel along the center lane. Take note that the three-lane road already has a cordoned-off bicycle lane on it as well. Failure to comply will set you back P500. For more info, you can check out the Pasig Command Center's update below.
Continue reading below ↓
Recommended Videos
Julia Vargas Avenue, in the grand scheme of things, is just one stretch of road. But it does connect motorists to Ortigas Center, one of the busiest business districts in the metro and home to many offices, malls, schools, and other places that many of us frequent. It's also connected to a major thoroughfare in C5, so this scheme can have a far-reaching effect on congestion.
So now we turn it over to you guys. What's your experience been like with the new rule so far? Let us know by answering the poll below, and share your thoughts with us in the comments section.