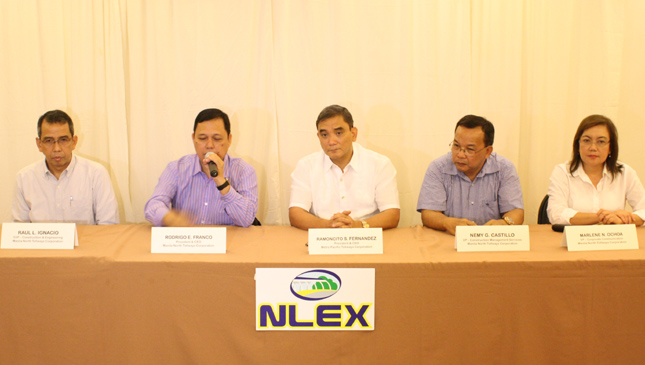 Manila North Tollways Corporation officials gave an update on their progress in constructing Segment 10 of the North Luzon Expressway Harbor Link project in a press conference held today. While they acknowledged the possibility of delays, the MNTC remains confident in meeting the December 2016 project completion date.
The Harbor Link project aims to decrease Metro Manila traffic congestion by providing cargo trucks entering and exiting the harbor area with an alternative route free from the implementation of truck bans. Segment 9 of the project began construction in May 2013, and opened to traffic in March. Segment 10, meanwhile, hopes to open late next year--the two segments combined cost around P11 billion.
MNTC senior vice president Raul Ignacio said that there would be repercussions affecting both the schedule and the cost of the project, if ever delays were to happen. "If we will be delayed in installing and driving the board piles and installing the columns, the girders and what we call the crossheads, there will be a substantial and major delay in the project not only in the execution, but there will also be some cost implications because of the change in schedule, change in the methodology, change in the scheme of launching the girders," the official said.
One impediment to the Harbor Link project is the MNTC's slow progress in securing right-of-way requirements for the elevated highway. Construction site manager Dhing Autor said that they have been waiting for clearance from the DPWH and the DOTC for about a year already. Officials added, however, that they expect to get the necessary documentation within the month.
ADVERTISEMENT - CONTINUE READING BELOW ↓
MNTC president and CEO Rodrigo Franco told the media that a toll fee has already been approved by the Toll Regulatory Board, but would only be implemented upon the completion of Segment 10. "The toll fee will be added to what we call the open-system toll rate," he explained. "If the open-system toll rate is a certain amount, then we will just add a little increment to that."
Franco, however, stressed that the amount was not yet set in stone, saying that the MNTC would have to get back to the Toll Regulatory Board before they could start collecting. "While the principle is approved by the Toll Regulatory Board, we will have to go back to them for authority to impose the toll before we can start collecting that," he pointed out. "But we can assure you it's not a very big amount."
Other benefits the officials say will come with the completion of the Harbor Link project include an increase in land value of the surrounding areas and the generation of about 10,000 jobs.
Do you think the completion of the project will have a positive impact on the worsening traffic condition in Metro Manila?
Photos by Drei Laurel