The vehicles you see above are a handful of modernized Isuzu public utility vehicles (PUV) capable of accommodating up to 23 passengers, and boasting impressive space and modern features like automated fare collection and GPS tracking.
Like what you see? Then you're going to love this: These units might one day be plying Rizal–Cubao route.
A total of 15 new QKR77 light-duty trucks configured as Class 3 PUVs were handed over to the Metro Comet Transport Cooperative last month, and are expected to be deployed along the Rodriguez, Rizal, and Cubao, Quezon City loop.
The hope is that one day these vehicles will replace UV Express units traversing the busy route, Isuzu Philippines (IPC) sales division head Joseph Bautista says.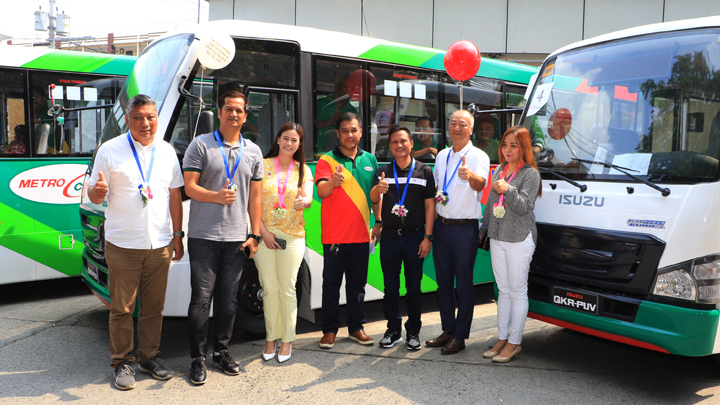 ADVERTISEMENT - CONTINUE READING BELOW ↓
"Our modernized PUVs using the QKR 77 truck platform with a body designed and built by Almazora can accommodate 23 seated passengers, with each seated passenger enjoying 400mm of width allowance, legroom of 650mm, and a standing height of 1.75 meters," Bautista says. "Commuters can now travel comfortably with enough legroom, headroom, and seat space."
Aside from an automated fare collection system and GPS tracking, these vehicles also feature CCTV cameras, an A/C system, and a Wi-Fi connection for passengers. They also come packing the Japanese manufacturer's 3.0-liter 4JH1-TC CRDi diesel engine and speed limiters.
"Isuzu commits itself in providing functional and innovative transport systems not only for the welfare of Filipino businesses and families but also for a greener and safer environment," IPC executive vice president Shojiro Sakoda said during the handover. "With these Isuzu PUVs, we are truly confident that we will be able to provide a more comfortable and convenient ride to our public commuters."
ADVERTISEMENT - CONTINUE READING BELOW ↓
Recommended Videos
We hope more modernized PUVs begin servicing the public soon. Will more vehicles like these restore your faith in the Philippine public transportation system?