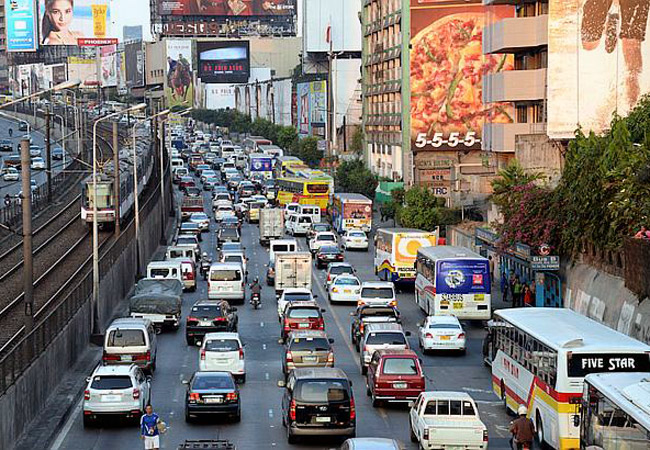 Yesterday, a Filipino correspondent for The Straits Times (a Singaporean newspaper) by the name of Raul Dancel, finally got the attention of his countrymen when he wrote a vilifying piece titled, "Back home in Manila, and feeling out of place."
In the article, Dancel--a former employee of The Manila Times and Philippine Daily Inquirer who has recently been assigned to Manila by his Singaporean employer after having been based in the Lion City for seven years--complains of detestable things about the Philippines versus Singapore, including a petty argument with a KFC cashier over the use of "take away" instead of "take out."
Of course, he has something to say about Philippine roads:
Out on the street, zebra crossings are little more than street art. Pedestrians don't use them. They cross the road whenever and wherever they like and as if they just woke up with a hangover and are heading for the "comfort room," half-asleep. People are often seen crossing the road right below an overhead bridge, too. Motorists who honk at jaywalkers are lucky to get the evil eye. More often, the response is a sharp rebuke: "Go fly!" Or, "Buy the road, jerk!"
As you can imagine, the guy is himself currently being vilified on social media by incensed Filipinos, not a few of whom are suggesting we send him back to Singapore ASAP and declare him a persona non grata.
Continue reading below ↓
Recommended Videos
While the article does smack of bad taste (and pretentiousness), Dancel speaks much truth.
In an earlier article in his new designation as The Straits Times' Philippine correspondent, he wrote about his "painful slog through Manila traffic." There, he came up with a very interesting computation on the amount of time Filipino motorists waste sitting in traffic.
He wrote:
The last time I drove in the Philippines, it took me 45 minutes to navigate a 3km stretch of the capital's main thoroughfare: a highway known as EDSA. Now, I jog regularly, and I know that if I had run instead of driven, I probably would have covered the same distance twice--with five minutes to spare. That experience prompted me to do some math: Three hours stuck in traffic each day, which is the norm in the Philippines, run up to 66 hours a month (discounting weekends), and 792 hours--an entire month--a year. Assuming that in my lifetime I will have 40 productive years, I'll be wasting three years of my life just slogging through traffic.
In that amount of time, Dancel said, he could "earn a bachelor's degree in molecular biology." (Predictably, his choice of course has to sound impressively erudite as well.)
Interestingly, the piece, published on February 25, only had one comment when we found it, suggesting not too many people had been engaged by Dancel in his new post. His disparaging article about the Philippines? It now has 79 comments (and counting) as we write this--mostly from offended Pinoys. If he was merely seeking attention, he certainly has ours now.
Truth always hurts, as they love to say. Precisely why it won't hurt if the messenger isn't a pompous prick.
Photo from The Straits Times