There have been proposals to solve the crippling traffic situation in Metro Manila, from building a subway system to banning "driver-only" cars on EDSA. Some think turning motorcycles into a legal mode of public transportation can help alleviate the endless gridlock, while others have long accepted it's a hopeless case. But there is one possible solution that never seems to get the traction it needs: commuter cycling.
In 2013, the Metro Manila Development Authority made a few bikes available for sharing— for free—on EDSA in the hopes that it will encourage more commuters to try biking along the main thoroughfare and eventually lessen car traffic. There were bike lanes introduced, but they were short in distance and narrow in width. The bikes were sparse and were simply hung on walls. Eventually, the bikes disappeared and the lanes were forgotten.
But Pasig City, home to Ortigas Business District—arguably the epicenter of Metro Manila—is not losing hope on this cause. Early this month, the local city government soft-launched its bike-sharing facility: a network of eight bike stations spread across Ortigas Center.
ADVERTISEMENT - CONTINUE READING BELOW ↓
The stations are usually located in front of buildings that serve as 'hosts.' Based on the initial lineup of stations, each biker can go from Robinsons Galleria along Ortigas Avenue to as far as City State Center Condominium on Shaw Boulevard, which is right beside Ynares Center. That is a 2.7km stretch based on our estimate.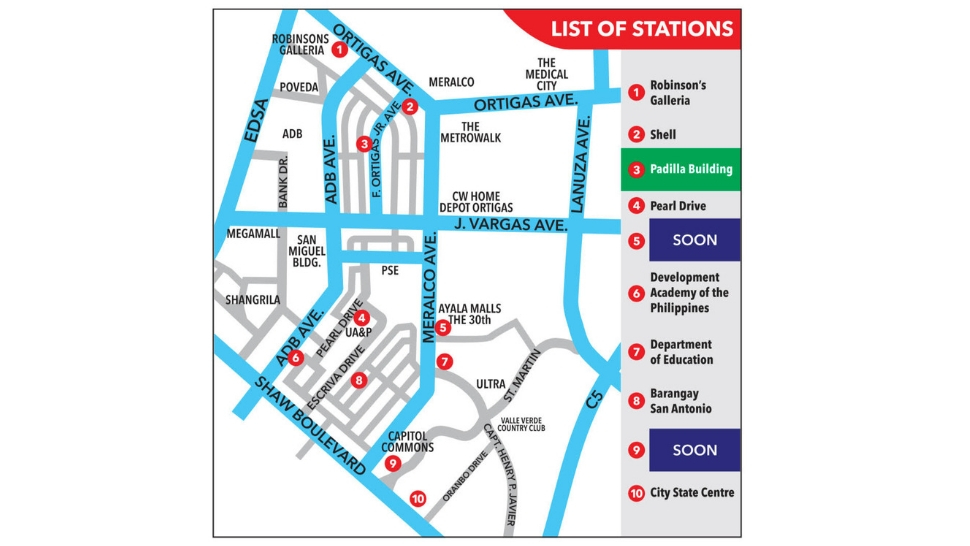 ADVERTISEMENT - CONTINUE READING BELOW ↓
Recommended Videos
As of press time, 100 bikes are available for rent. Each station is equipped with 10 bikes, parked in security-protected docks, that anyone with an access card can rent for free. According to Barangay San Antonio captain Thomas Raymond Lising, users may ride the bike for an hour before it is expected to be parked to the next station to ensure the facility is fully maximized by all access-card holders. The scheme is also a way to protect the bikes and deter anyone from stealing them.
According to Lising, the first 100 access cards are going to be deployed by the first week of April. Signups have been ongoing since last year, but due to "implementation problems," the launch of the bike sharing facility had been delayed.
In the next deployment of access cards, however, anyone—even non-Pasig residents—may sign up for one and may utilize the bikes for free.
ADVERTISEMENT - CONTINUE READING BELOW ↓
"The City of Pasig has a population of around 700,000 people. But due to the number of people that come in during the day, students and employees that attend schools and offices in Ortigas, that (number) rises to 900,000," Lising explained. "It's only logical to make the facility available even to non-residents. That's the market."
Most of Ortigas Center is under Barangay San Antonio. Some Pasig City Transport officials also occupy an office in the barangay as they regularly make rounds to check that the bike stations have enough parking spaces for bikers.
ADVERTISEMENT - CONTINUE READING BELOW ↓
But even long before the bike stations were launched, Pasig City was already one of the most bike-friendly cities in Metro Manila. Almost all streets of Ortigas Center have dedicated bike lanes, some even protected by plastic cones. According to a post by the Transport department of the city's local government, bike lanes in the city are already at 40km, and it now plans to extend them to 150km.
To be sure, several bike-sharing initiatives have already been introduced in different parts of Metro Manila. But nothing as extensive and as budget-heavy has been deployed as the one in Ortigas. If Pasig City's bike-sharing system becomes a success, it may be what the country needs to finally pursue and develop a transformative biking culture.
NOTE: This story originally appeared on Esquiremag.ph. Minor edits have been made.