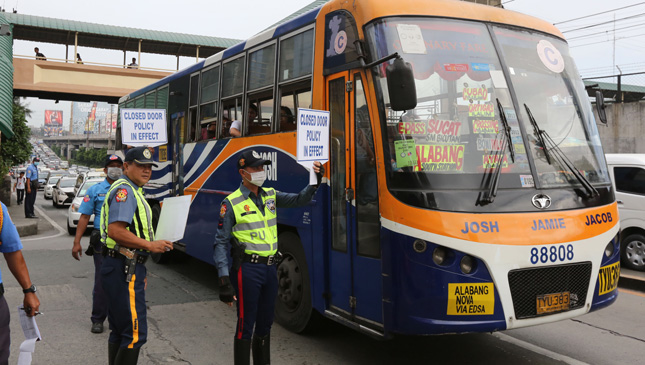 Motorists might have noticed the absence of the PNP's 300-strong Highway Patrol Group (HPG) along EDSA. This is because last Monday, November 14, the so-called 'Spartan 300' were transferred. They will now be visible along C-5 Road, Commonwealth Avenue and Ninoy Aquino International Airport in Pasay City, where traffic is expected to worsen with the onset of the Christmas season. The MMDA is again the main agency in charge of regulating Metro Manila's main artery.
During a recent party he hosted for the police unit, PNP-HPG director Chief Superintendent Antonio Gardiola Jr. commended his personnel for posting a 'zero' record on extortions from motorists during their five-month traffic management mission along EDSA.
"My 300 HPG agents, I call them Spartans, will be redeployed to address the traffic situation in areas where we expect monstrous traffic jams this Yultide Season, as more tourists and balikbayans arrive," Gardiola said in a statement.
The reassignment of the HPG 300 from EDSA also marks the start of Phase 2 of the traffic scheme initiated by the Inter-Agency Council on Traffic (I-ACT), where Gardiola sits as the chief traffic enforcer of the body.
Phase 1 involved the easing of the traffic mess along EDSA, the so-called Mabuhay Lanes, and clearing other arterial roads previously saturated with street obstacles like ambulant vendors, illegally parked vehicles and unauthorized structures. I-ACT also laid out a P16 billion plan for the full automation of all traffic light systems in Metro Manila by interconnecting them.
According to Gardiola, the gridlock in Metro Manila, where an estimated 332,000 vehicles pass daily, is costing Filipinos about P2 billion in revenue per day. Damn.
We may still feel the wretched effect of traffic, and it's bound to get worse next month, but it's good to know serious efforts are being made to address it. Do you think the government's plan is working?