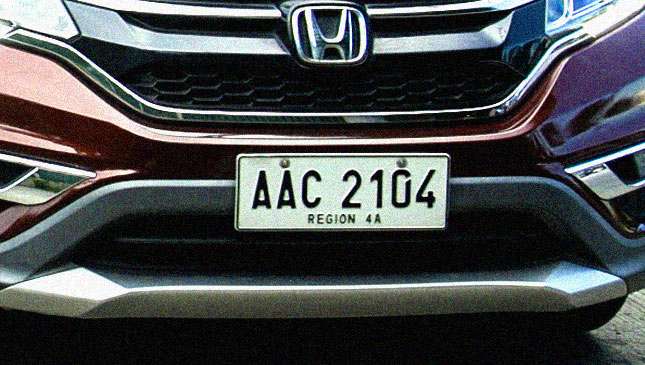 Still waiting for your new license plates? You know, like you've been doing for the past year or two? If yes, you'll be glad to know that the Supreme Court (SC) has finally lifted the temporary restraining order (TRO) preventing the release of 700,000 plates.
According to a report by Inquirer.net, the SC has declared the "use of appropriation" in the 2014 national budget for the Motor Vehicle License Plate Standardization Program as constitutional, lifting the TRO which has been in effect since June 14, 2016. The TRO covered 300,000 license plates for cars and 400,000 for motorcycles, the report says.
"The Court ruled that the 2014 GAA (General Appropriations Act) included an appropriation for the program and the use of the appropriation is constitutional," it said.
The Motor Vehicle License Plate Standardization Program began in July 2013 and will run until June of this year. A budget of P3.8 billion was allocated to it for the "procurement of license plates for 5,236,439 motor vehicles and 9,968,017 for motorcycles nationwide," the report continues.
ADVERTISEMENT - CONTINUE READING BELOW ↓
According to the Department of Transportation and Communications (now just the Department of Transportation) and Land Transportation Office, the project would also involve equipping plates with safety features such as "tamper resistant locks and bolts and reflectorized sheeting."
Frankly, we'll believe this when we're finally holding the damn things with our own bare hands. But hey, it's still progress right?
ADVERTISEMENT - CONTINUE READING BELOW ↓
Recommended Videos