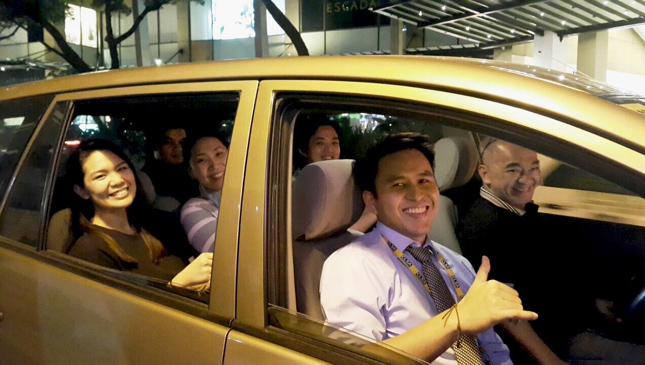 We hate to say it, but there are just way too many cars on the road these days. Architects and urban planners have said it time and time again: There's just no way our infrastructure can keep up with the endless stream of vehicles flowing into our metropolis. The lack of decent public transportation doesn't help either.
Enter UberHop (not to be confused with u-Hop), Uber's new ride-sharing option that aims to get more people into fewer cars. It was recently launched here in Manila, making our capital just the third city in the world to receive the service (next to Toronto and Seattle).
UberHop is similar to a carpooling service in the sense that commuters heading in the same direction hop into a single vehicle--for a flat fare. The service is a safer, more reliable alternative to taking the bus or the MRT. Oh, and opting to carpool instead of taking your car to work means you're helping ease the horrendous traffic situation. Here's how to avail of the service:
Request. Simply open the Uber app on your smartphone and select the UberHop option (make sure you have the latest version of the app installed). Choose from the available pick-up and drop-off locations and press "Request."
Walk. The app will pair you up with a driver and five other passengers heading in the same direction. Using directions provided by the app, walk to the pick-up spot and wait for your ride. The app will also show how much time you have to get to the pick-up point. Be sure to be on time because the driver will not wait for latecomers.
ADVERTISEMENT - CONTINUE READING BELOW ↓
Ride. There are no extra stops once the ride begins so that passengers can reach their destination as fast as possible. Upon arriving at the drop-off point, just walk the remaining distance to your final destination.
Unfortunately, as of now, the service is only available in Makati and Bonifacio Global City. But Uber has stated that it plans on expanding to other areas in Metro Manila. The fare is set at P75 per head, with the service available on weekdays from 7am to 10am and 4pm to 9pm (excluding non-working holidays).
Smart transportation alternatives like this are definitely part of the solution to our traffic-congestion issues. Hopefully, services like this can force PUV operators, or even the government, to shape up.
ADVERTISEMENT - CONTINUE READING BELOW ↓
Recommended Videos