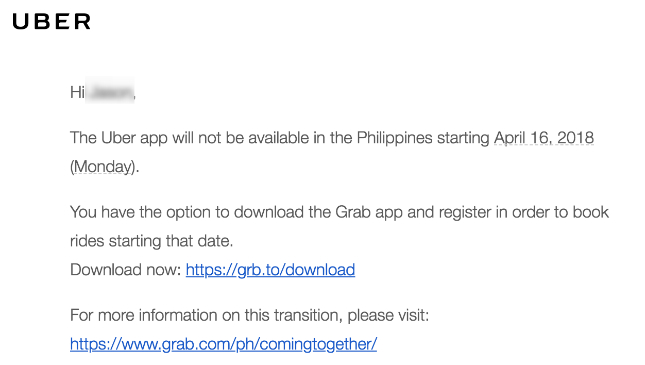 It was fun while it lasted.
After much discussion, litigation, and false starts, Uber Philippines has announced in an e-mail advisory today that it will shut down its app's operations in the country starting Monday, April 16. The e-mail then advises riders to register with Grab to book rides from that date onward.
This shutdown comes after the much-publicized acquisition of Uber's Southeast Asian operations by rival Grab. Uber was originally scheduled to shut down in the country on April 8, but the Philippine Competition Commission intervened, ordering the company to keep its operations active pending review of the acquisition.
Grab, meanwhile, has put up an FAQ page to answer rider and driver questions following Uber's shutdown. Namely, it said that fares for riders won't change, and that they'll continue to be calculated on a "base distance, with a dynamic surcharge that will be applied based on factors including demand and supply in that particular point in time, traffic conditions and estimated time taken for the journey." Grab's fares, as we all know, have come under scrutiny as of late.
ADVERTISEMENT - CONTINUE READING BELOW ↓
Rider credits and data from Uber won't be transferred over. However, drivers' data will carry over if the drivers give their consent (though their past history and ratings won't be). For more info, you can check out Grab's FAQ page here.
So that's it for Uber in the Philippines. What was your fondest memory of the ride-hailing app?