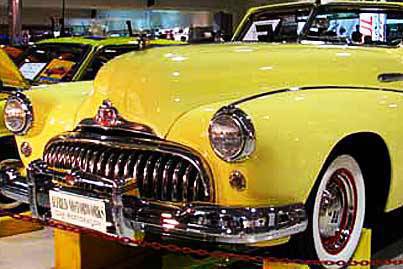 Over 80 of the best show cars in the country are getting "Ooohs" and "Aaahs" at the 2009 Trans Sport Show in SM Megamall.

And while you may have your personal fave, you might also want to check out TopGear.com.ph's must-see cars at this year's display:

- 1948 Buick Roadmaster. Owned by Juanito dela Cruz, this mustard yellow classic is truly worthy of attention, thanks to the attention given by Alfred Motorworks in restoring this hulking machinery to its showroom state.

- 1959 Lancia Zagato. It's not too often we see a fine piece of Italian machinery on the road so to see a beautifully restored classic thoroughbred surely deserves mentioning. This baby is owned by Boo Corquera and worked on by REG Restoration.

- 1963 Lincoln Continental. Another beautiful restoration work by REG Restoration, this land yacht owned by Lee Martin Kierulf represents America's decadence of a time when everything that was bigger was beautiful and gasoline only costs a few cents.

- 1997 Mitsubishi Lancer GSR. What's a sportified econobox doing on this list, you say? Well, how about when we tell you the backseat and trunk has been taken over by a really slick sound system set-up? You get six twelve-inch subwoofers pounding the back of your head AND massaging the small of your back! Owned by Rhayan de Leon and worked on by Autoline Motorsports, this is one wicked ride - and we mean that in a good way.

- 2009 Nissan Skyline R35 GT-R. Sure, you can see an R35 Skyline GT-R in any auto show. But this one's in bright orange. And it's owned by Coy Enriquez, a regular car show fixture. And it was detailed by Alex Car Restoration, five-time Trans Sport Show 'Best of Show' winner. Enough said.
Continue reading below ↓
Recommended Videos
The 18th Trans Sport Show runs from April 22 to April 26 at the Megatrade Halls of SM Megamall.