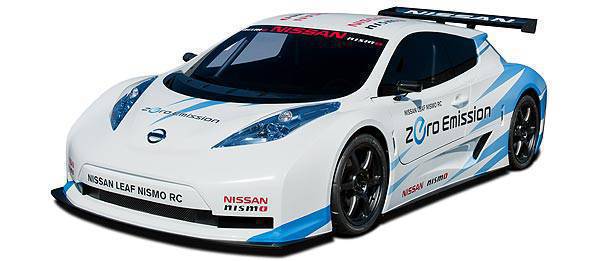 Think electric vehicles are boring? Think again as Nissan is out to prove the opposite by commissioning its famed racing arm to transform the LEAF into a race-track ready ride.
"Combining the talents of NISMO, Nissan's world renowned motorsports group, and engineers behind some of the company's Super GT and FIA GT1 race teams, the Nissan LEAF NISMO RC (Racing Competition) will serve as a rolling laboratory for the accelerated development of EV and aerodynamic systems, as well as a platform for the development of new green motorsports series," said Carlos Tavares, chairman of Nissan Americas.
To achieve this, the LEAF was restyled as a two-door race car before its full carbon-fiber monocoque bodywork was produced. Like a true race car, the LEAF NISMO RC has a three-piece bodywork with removable front and rear sections, fixed windows, LED headlights and taillights, and a driver-adjustable rear wing.
Though the LEAF NISMO RC has a 3.9-inch shorter wheelbase, it is 0.8 inch longer and 6.7 inches wider than its production counterpart. The race car is also over a foot lower than the production LEAF. The LEAF NISMO RC sits closer to the ground with its 2.4-inch ground clearance, lower than the 6.3-inch clearance on its road-going counterpart. And like a true race car, the LEAF NISMO RC weighs 40 percent lighter than the commercially-available LEAF at 2,068lbs.
Continue reading below ↓
Recommended Videos
Like the production Nissan LEAF, the NISMO RC is powered by a lithium-ion battery pack that generates 107hp and 280Nm of torque. Using its quick charging port, the LEAF NISMO RC's battery can be charged to nearly 80 percent of its full capacity in only 30 minutes.
In Nissan's preliminary testing of the LEAF NISMO RC, it could run a zero-to-100kph sprint in 6.85 seconds and reach a top speed of nearly 150kph. Under typical racing conditions, the LEAF NISMO RC is projected to have a 20-minute running time.
"There's a perception among some people that electric vehicles fall on the dull side of the automotive enthusiasm scale--which is certainly not the case with either the production Nissan LEAF or this electrifying Nissan LEAF NISMO RC," added Tavares. "Nissan LEAF owners are fully embracing this new world of zero emission technology. We believe the same potential exists in the motorsports world as well, with Nissan proud to be first on the starting grid."