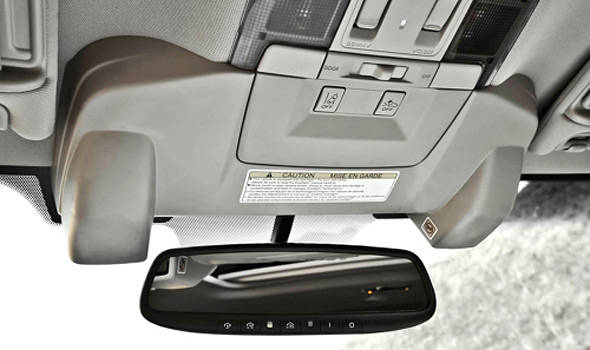 Subaru's driver-assistance system will finally reach the Japanese carmaker's production vehicles later this year as it becomes an added option to the Legacy and Outback models in the United States.
The EyeSight, as the system is called, basically integrates the vehicle's adaptive cruise-control, pre-collision-braking and vehicle-lane-departure warning systems. Utilizing two charge-coupled device cameras developed in-house and mounted on the upper edge of the windshield, it reduces the potential damage that could occur in bumper-mounted radar systems.
The system works by processing stereo images captured by the cameras to identify not just the vehicles traveling in front but obstacles, traffic lanes and other items as well. The video information is then relayed to the EyeSight computer, which is networked to the car's braking system and electronic throttle control.
At speeds of under 30kph, EyeSight can detect obstacles in the car's path and, if the driver has failed to engage the brakes, the system can reduce the vehicle's speed or bring it to a full stop to avoid a potential collision. At speeds of over 30kph, the system can apply the brakes when an object is detected and if the driver has taken no evasive action or does not brake appropriately. The system, which can recognize programmed objects such as vehicles, motorcyclists, bicyclists and pedestrians, can help mitigate collision damage. The system also monitors traffic lane marker and lines, allowing it to detect if the vehicle begins to wander outside of its lane if the turn signal isn't used.
Continue reading below ↓
Recommended Videos
On the highway, the Eyesight's adaptive cruise-control system can maintain a safe distance from the vehicle in front, braking or accelerating the car as needed to maintain the driver-selected target speed and traveling distance. Operational from one to 140kph, the adaptive cruise control can fully stop the vehicle if the system detects a car ahead. As an added convenience, it can also assist the driver in heavy stop-and-go traffic by maintaining the distance from the vehicle ahead, thereby reducing driver fatigue and helping keep the driver alert.
In heavy-traffic conditions, EyeSight will also alert the driver when the vehicle ahead has moved if he or she doesn't react within several seconds. The technology can also help reduce collision damages by cutting the throttle when it senses an obstacle in front but the accelerator pedal continues to be pushed. The system is also effective when a driver shifts into Drive inadvertently instead of Reverse when backing out of a parking space. According to Subaru, the stereo camera design of EyeSight provides a wider detection angle than that of radar-based systems.
Subaru's EyeSight system will subsequently appear in the other vehicles in its lineup soon.