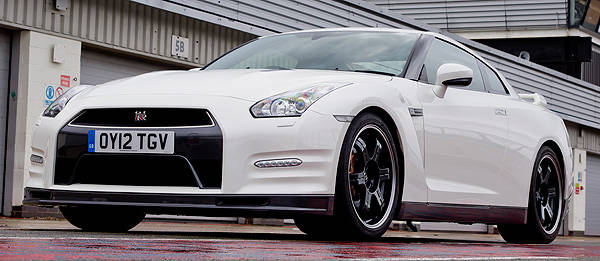 Nissan has started shipping its GT-R Track Pack, "a new version of the Nissan supercar for those drivers who require a faster, lighter, harder GT-R and one that has that extra edge at the racetrack."
Most importantly, though, unlike various aftermarket modifications, the GT-R Track Pack has the full blessing of the car's creator, Kazutoshi Mizuno, and is completely road-legal.
On the outside, the car features special six-spoke Rays Engineering alloy wheels that lighten the car's weight by 10kg over the standard 2012 GT-R. Additional brake cooling ducts built into the carbon front splitter reduce the front brake's operating temperature by as much 100 degrees during track use, while similar ducts hidden behind the rear wheels channel cooling air over the rear discs.
Inside, although the Track Pack loses its rear seats, it gains two track-ready, blue-on-gray front sports seats made of leather and high-friction fabric that allows occupants to 'stick' to the seats during hard cornering and braking. A Track Pack emblem also sits on the dashboard helping to identify this special GT-R model, while more comfortable seatbelts, an enhanced Bose audio system, and a rear-view camera are fitted as standard.
The GT-R Track Pack also features a stiffer suspension designed to optimize track performance. It comprises a harder setup and increased body rigidity, and has been jointly developed with GT-R driver Toshio Suzuki during extensive testing at the Nurburgring. The suspension package reportedly allows the car's drivers to achieve the perfect setup for the track, but thanks to the special dampers, customers will be able to change the suspension for road use at a flick of a switch, "making the GT-R Track Pack suitable for all environments."
Continue reading below ↓
Recommended Videos
Nissan says that the GT-R Track Pack's performance statistics remain unchanged versus the standard 2012 GT-R, which means customers will still be able to enjoy the GT-R's 542hp and zero-to-100kph time of 2.8 seconds.
The sad news for us though is that the Track Pack is only available in the United Kingdom and Japan. Paging gray-market vendors...
[gallery]1212[gallery]