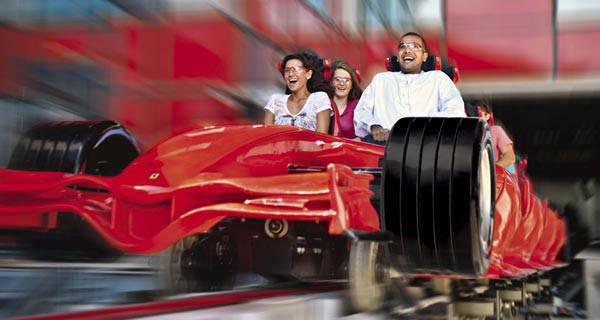 About three weeks ago, we announced a contest that would send one lucky TopGear.com.ph visitor to the Ferrari World theme park in Abu Dhabi--all expenses paid--courtesy of Shell V-Power. We simply asked you to tell us "why you deserve to visit the Ferrari World with the Shell V-Power Network of Champions." A Shell V-Power Champs panel then selected the five (5) most convincing and most creative answers, the senders of which now stand to get a free full tank of premium Shell V-Power and qualify for the second and final round of the contest. Now, out of these five contestants will be picked the lucky winner of the Ferrari World trip package.
The five most convincing answers are:
* I deserve to win the Ferrari World with the Shell V-Power Network of Champions because 1st my wife is pregnant and it will bring me luck.2nd I always gas up Shell v-power because it is the best gas for my car.3rd is I love everything about Ferrari and and theme park rides 24/7.4th is I'm a loyal reader and collector of top gear magazine ever since it came out here in the Philippines. And lastly I would name my child after Michael Schumacher if I win this contest. - allanoreyes
Continue reading below ↓
Recommended Videos
* Sa tingin ko ay karapat dapat ako na makabisita sa sa napakagandang mundo ng ferrari sa napakayamang bansa ng abu dhabi. Dahil ang pagiging kampeon ay di lang sa larangan ng motorsports, trabaho o anu man. Ito din ay nasusukat sa pagiging isang mabuting ama sa iyong anak. Tingin ko sa mga tao na katulad ko, babae man o lalaki na mag isang nagtataguyod ng kanilang anak sa hirap ng buhay ngayon ay maituturing na isang kampyon sa ating panahon. Ngunit sa tulong ng mga mababasa at mapapanuod na tungkol sa larangan ng motorsports ay minsan di masama mangarap. Manalo sa F1, makatuntong sa podium ng mga kampeon. mahawakan ang lupa na dinaanan ng mga humaharurot na mga makina. Libre mangarap. Ngunit ito ay nagbibigay ng pag asa sa bawat indibidwal na humaharap taas noo araw araw kahit ano mang problema sa mundo. - Grupo Zan
* I'm very passionate about cars and racing, nothing beats getting in one and having a drive. I was very lucky as a small kid to get rides to school in my family's own car, the sheer excitement of looking out in awe while the scenery whisks past you with no care in the world. I got a lot of toy cars as a kid, the ones I distinctly remember was a Yellow Battery Operated Volkswagen Beetle, a Black Pontiac Trans Am with lights resembling KITT from Knight Rider and a Red Ferrari. Then I grew up, reading books or magazines or watching TV shows about cars my knowledge grew on how cars worked. I knew then those funny clicking machines at the Shell Gas Station pump unleaded, premium or diesel fuel, stuff I would not know as a kid. I also learned how the Internal Combustion Engine worked, how it takes in air-fuel mixture, ignite it with an electrical spark and then an explosion of energy propelling the piston to drive the power all the way to the wheels. It got better when I learned the true meaning of being a Car Fanatic, speed. Just started watching and reading more stuff about racing, from Tuners to Exotics, the Racing Games opened up much more eagerly getting down on setting up Virtual Cars to perform and look the part. I'm amazed how the professionals do it getting down to skill to make the mechanical/technological part work. Aerodynamics, Handling, Braking and Horse Power; stuff a normal driver need not know but is the true Heart and Soul of racing. When people see a flashy red sports car like a Ferrari, the first thing they always think is it's an expensive fast car. They don't realize that from the beginning, winning races made these sorts of cars, it is what made the Automotive Industry innovate all the stuff we take for granted in modern cars today. Now, Happy and having my own car to drive, I take it my passion and knowledge about these incredible 4 wheeled machines to remain as strong as the pioneers of Automotive History. - fiat_abarth
* I've always known ferrari as the little red car that my late dad brings to me annually when he eventually ended up his dream job at ferrari italy, if only debeers didnt offer a much better pay, my dad could have worked there forever. he's my idol and the closest that i could get to a ferrari is through my dads miniature collections of cars that he worked with like bmw, audi, mercedes and volkswagen, and of course ferrari that probably led me to interest in cars particulary the red cars that i would constantly update with my son currently through shell my one and only fuel. its been a father and son thing already from my father to me and now my son and I, he honestly loves both thomas and freinds aligned with the ferrari cars since he learned to play. i would be very much in joy so much more than my family if i happen to win in this contest and be part in this once in a lifetime experience, and honestly, i'll be tagging along my 2 year old son with me and see in awe how hes eye would suddenly brighten in the sight of such team park, car car car! he would say in the sight of such beauty to an enthusiast. im not rich , just the ordinary govnt employee who drives and goes home weekly, if it werent the price of gas, i would be going home daily from cavite to manila. its not the distance from home to work for me put the pure driving experience that i enjoy, how much more if it would be a ferrari. its as if the car and the driver as one, me my car, my son, singing to the tune of barney the dinosour, thats one of the experiences i tresure most. hopefully it would turn out to me, my son, in a ferrari theme park having the time of our life(in our dreaams). Currently im in an hospital because of a flu, and to my surprise my son inserted his red toy car, as if saying get well soon dad. If we win in this contest, it would be a story to tell for my generations to come, and it all started with the little red toy car from italy. - georgenormaninnis
* Hello I am Enzo, and like my namesake, founder of the ultimate machine exemplifying the perfect marriage of beauty and power I believe that passion is a key virtue that fuels human existence. This virtue has been imbued in me ever since my mentor in high school, (Mr Pagsi, as we would call him), rigorously taught as well as exemplified this virtue. And now almost 10 years after my first encounter with the old man with a mighty cause, I have lived every day of my life struggling to live out the virtue which he has taught instilled and me and which I value above all virtues. I have studied my *ss off trying to finish every class I took in college at the top of my game, so that I can at least graduate with honors in the best university in the country, and with the grace of God and the will to succeed I did. I wasted little time after graduating bumming around, I immediately tried to learn as much as I could from my cousin, who was one of the top media people in China, by interning in his office here in Manila. I am now working full time, with a small team, trying to push an innovation that would upgrade the caliber of Philippine advertising. It's a dirty job trying to be a first mover in a relatively unknown service, but again, with my high school mentor's words in mind, "Love your calling with passion, it is the meaning of your life," I still get by day to day trying to, in the words of my boss, "change the game." With this, my boss has also entrusted several other projects in the same industry which hopefully we can launch by next year and will hopefully impact Philippine media as we know it. Ferrari has always been part of my life, not only because I grew up with the model cars and the F1 flags and races on TV but because I believe that true passion is not a reckless directionless brute, like the American muscle cars, true passion must be able to balance the sheer rush of power with an elegant facade present in every masterpiece that comes out of the Ferrari factory. This fore me exemplifies the true embodiment of passion for performance. - enzoaraullo
If you're one of the above five finalists, congratulations! Expect an e-mail from us giving you instructions on how to proceed from here. To all those who joined but didn't win, thank you very much. May you continue to live the same passion that you displayed in answering our question.