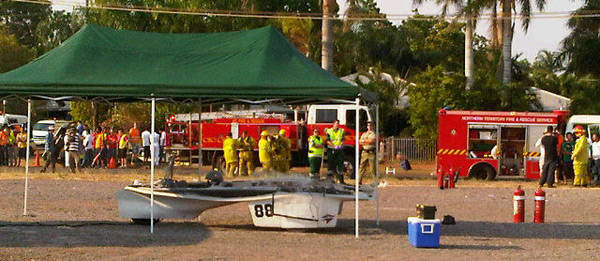 Sikat II, De La Salle University's (DLSU) entry in the 2011 World Solar Challenge, suffered a temporary setback as one of its battery packs reportedly exploded and caught fire yesterday.
Fortunately for the team, the incident happened after Sikat II reached the town of Tennant Creek, one of the race's scheduled stops, as the third day of the race came to a close. The car's battery packs were reportedly being charged when the incident happened. The town's fire department were on-site when it happened, with its firemen dousing the flames before it did any more damage to the car.
The race organizers gave Team Solar Philippines the option to continue the race. It was collectively decided that the battery pack will be rebuilt while the damage the fire wrought on the car will be repaired. Working through the night, Team Solar Philippines was able to have Sikat II up and running for today's race, leaving Tennant Creek shortly before noon local time.
"The team has decided to continue the race despite the battery problems encountered by Sikat II in Tennant Creek yesterday. Our solar car is in perfect condition, and we are optimistic that we will reach Adelaide on or before Saturday. The delay brought about by the battery overheat incident doesn't hamper us from moving forward and finishing the race," Team Solar Philippines said in a statement.
Continue reading below ↓
Recommended Videos
The team was in 19th place when the incident happened, up by five places from its 24th place at the end of the second day, and just one place behind the entry of the Massachusetts Institute of Technology's Solar Electric Vehicle Team (SEVT).
Photo from Sikat II Solar Car's Twitter page