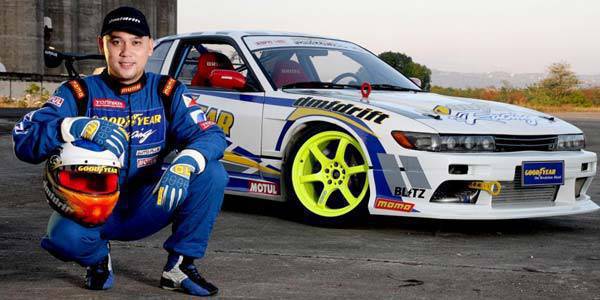 DMF Drift, the lone Filipino team to compete in the ASEAN Formula Drift (FD), is all geared up for its next challenge: Formula Drift Singapore 2010.
The drift team, led by David Feliciano of DMFDrift Philippines, will go against 45 drivers from Singapore, Malaysia, Thailand, Indonesia, China, Hong Kong, Japan and New Zealand.
Feliciano is driving a while 1989 Nissan Silvia PS13, also known in the drift world as the "Great White," which has been tuned to give the engine more power and fitted with Goodyear Eagle F1 Asymmetric tires for improved handling and control on the track.
"The FD series made me realize that drifting is nmot about slipping and sliding, but about power and control," Feliciano said. "I learned that to compete at this level the choice of tires do matter. You need the right tires with responsive grip and handling to be able to take a wide drift angle using a force generated by 350++ horsepower engines. Goodyear has the perfect winning tire in the Eagle F1 Asymmetric."
Formula Drift Singapore, which will take place from April 24 to 25 at the F1 Pit Building, is the third DMF Drift's third regional competition supported by Goodyear Philippines.
"Goodyear is strongly committed to drifting which is the fastest-growing motorsport in the country and in the ASEAN region," said Goodyear Philippines managing director Gerry Alava. "The excellent performance and professionalism that David and the team exhibited at the Formula Drift competitions last year is something we are all proud of."