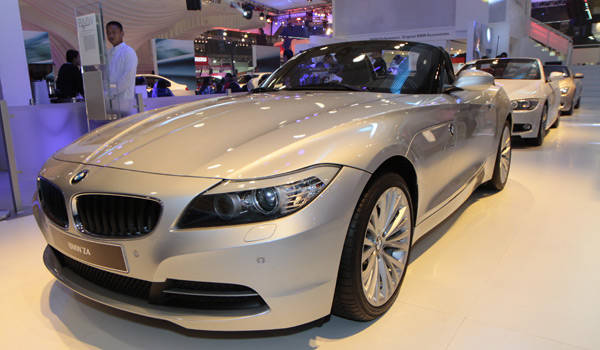 With "Drive The Fun" being the theme of the 4th Philippine International Motor Show, BMW is putting on display three of its roadsters for the show's visitors to ogle at. Here's a roundup of what these models are and what they offer:
* BMW Z4 Roadster: The Z4 Roadster is the only vehicle in its segment to combine classic roadster proportions with a seating position close to the rear axle, rear-wheel drive, and a fully automatic retractable hardtop. With the roof down, this two-seater offers a refreshingly intense experience of the sunshine and the wind rushing by. And with its hardtop closed, the Z4 provides all the comfort of a premium sports coupe. The aluminum shells of the two-piece lightweight hardtop come to rest in the roof compartment, thereby maximizing space. Even with the roof closed, the Z4 retains the proportions typical of a genuine roadster.
* BMW 335i Convertible: The 335i Convertible comes with a three-piece, electronically operated retractable hardtop that is reportedly a first for BMW. Stowed or raised in approximately 22 seconds, the new roof has been introduced not only for added security, but also for better visibility and a greater feeling of space and lighting for occupants. The unique way in which the 335i Convertible's roof folds maximizes the car's available trunk space. With the roof up, 350L of cargo can be accommodated; with the roof down, the trunk can still accommodate up to 210L of luggage. For added practicality, the stowed roof can be electronically raised out of the trunk area to allow for longer items such as golf clubs to be secured before being folded away again. The 335i Convertible comes with a seven-speed automatic gearbox, and, with its lag-free forced induction, can post a zero-to-100kph time of 5.8 seconds.
Continue reading below ↓
Recommended Videos
* BMW 6-Series Convertible: The new 6-Series Convertible combines a sweeping hood, set-back passenger compartment, long wheelbase, and flat waistline with a classic soft-top roof. The hallmark BMW swage line at the 6-Series Convertible's door handle level is spawned in the front wheel arch gill, which houses the side indicator lamp, and extends all the way back into the rear lights. Another character line begins from the bulge of the front wing and stretches over the front wheel like a wave before it drops down and continues horizontally toward the rear. Together with the swage line, BMW claims that this creates a dynamic wedge shape that emphasizes the car's forward-surging character. The eight-cylinder powerplant in the 650i Convertible produces 407hp, with the engine paired as standard with an eight-speed automatic gearbox.
Photo by Marlon 'Taz' Dacumos