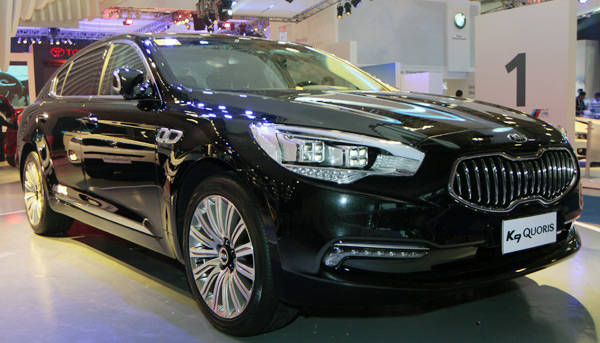 Columbian Autocar Corporation is dead serious about becoming a major player in the Philippine automotive industry. Just three months after the K9 (also called the Quoris) first went on sale in its home market of Korea, and with its global sales only to begin later this year, Kia's authorized distributor in the country has already brought it in, perhaps to gauge if the market is ready for a luxury sedan from the land of kimchi and K-pop.
To be sold as the Quoris outside of Korea, the car is Kia's first rear-wheel-drive sedan and features the carmaker's "best-of-the-best design, driving performance, and high-technology capabilities."
The Quoris is the latest continuation of Kia's evolving design DNA, carrying its recognizable 'Tiger Nose' grille design and pairing it with bold, high-tech-looking LED headlamps. Viewed from the front, these elements give the Quoris an imposing and characterful image.
Though the Quoris still isn't for sale in the Philippines (it has yet to go on sale anywhere globally outside of Korea), our source from within CAC revealed to us that, if it's on sale today, it would command a P7-million price tag. The source added that if this car did go on sale, it would only be offered on a per-order basis.
Continue reading below ↓
Recommended Videos
"After its successful launch in Korea, we're very honored to bring Kia's first rear-wheel-drive sedan," added CAC president Ginia Domingo. "We felt that the 4th Philippine International Motor Show is the perfect venue to introduce this luxury model to the Philippine market. It is equipped with an array of technological and safety features in addition to its elegant exterior design. With the Quoris, we hope to push for Kia's strong determination to offer consumers the broadest product lineup."
Photo by Marlon 'Taz' Dacumos