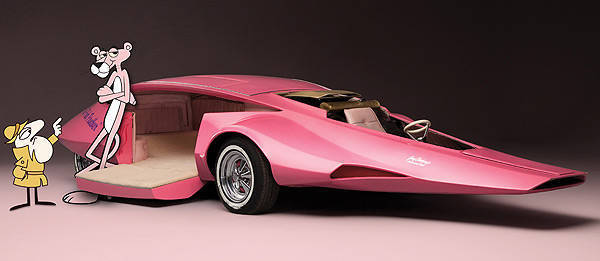 It's August 31 and we're a long way off--62, 817 Facebook "likes" to be precise--to making the Chief paint his beloved car a lovely shade of pink. But don't fret as another big "pink" thing is about to happen. As if by sheer coincidence, the one-of-a-kind Pink Panther car will be auctioned off on September 4 at the Chelsea Auto Legends Show in the United Kingdom.
Created in 1969 as part of the Pink Panther Show, which aired from 1969 to 1979, the car--known as the Panthermobile--played a major role in the program "and exemplifies the whimsical-modern aesthetic of this era-defining television program."
The Pink Panther car was created by Jay Ohrberg who is known for coming up with some of the most iconic movie and television vehicles in recent years like K.I.T.T. from Knight Rider, the time-traveling DeLorean in the Back to the Future trilogy and the Batmobile in Tim Burton's Batman films.
The Pink Panther car is believed to have been owned Ohrberg until it was entered into an auction in June 2007 by COYS where it fetched £88,000 or over P6 million.
For only the second time in its history, the Pink Panther car is being auctioned off once more. According to Robson Kay, which is facilitating the auction, the car's engine is not functioning but it was believed to be working when the vehicle was sold in 2007.
Continue reading below ↓
Recommended Videos
We're sad that we didn't get the 77,000 Facebook "likes" that we were looking for so we'll simply have to content ourselves by imagining the Chief driving the Pink Panther car.