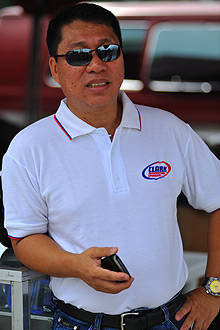 Johnny Tan, the owner and operator of the country's premier racetracks like the Clark International Speedway and the Batangas Racing Circuit, may find himself being investigated by tax authorities.
Tan is the husband of Carlotta Cristi Manalo-Tan, the coffee concessionaire in seven of Philippine Amusement and Gaming Corporation's (PAGCOR) casinos until 2010. She has been charged with tax evasion "for failing to pay P59 million in taxes despite her substantial earnings as a coffee concessionaire of PAGCOR," the Philippine Daily Inquirer reported. As a coffee concessionaire, Manalo-Tan's company, Promolabels Specialty Shop, received P700 million of Pagcor's P1-billion controversial coffee expenditure.
The report did not say whether Tan was involved in his wife's business, but government might already be looking into Tan's own dealings with PAGCOR. When asked if Tan is already under investigation, BIR commissioner Kim Jacinto-Henares reportedly said this was "confidential."
The Inquirer reported that Tan's Kilton Motor Corporation supplied PAGCOR with vehicles, metal detectors, stickers, generators and other equipment worth P21.4 million, and that he received P650,000 in sponsorship grants for kart racing events from 2008 to 2010.
This is the third time this year that Tan's name is dragged into some controversy. In May, Tan's Clark International Speedway was deemed unsafe after motorcycle racing champion Maico Buncio sustained injuries on the track, which subsequently cost him his life. A month later, professional drag racers complained that they were disqualified from competing in a race for not using equipment that were not purchased from Kart Plaza, which Tan owns.
Continue reading below ↓
Recommended Videos