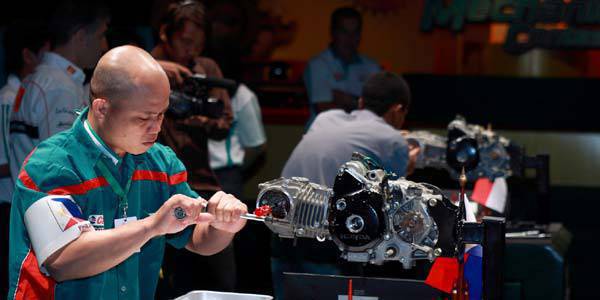 Boxers and street educators aren't the only ones bringing glory to the country.
A Filipino mechanic bested other competitors from Southeast Asia in the recent Castrol Power 1 ASEAN Mechanic Contest.
Marlou Acedera, who works as a mechanic in a Metro Manila motorcycle dealership, topped opponents from Thailand, Indonesia, and Vietnam--countries where the motorcycle population is ten times larger than in the Philippines.
The Castrol Power 1 ASEAN Mechanic Contest had two rounds which involved checking a bike's electrical system, assembling the engine, as well as troubleshooting and fixing a motorcycle with multiple problems within a particular time frame.
"Mechanics hold a key position in the lubricant market not only as one of Castrol's core customers, but also as ambassadors of the brand as they service riders in their shops," said Paul Salapantan, Castrol country marketing manager. "To win the contest on our very first try is really a testament to the talent and ingenuity of our Filipino motorcycle mechanics."
Continue reading below ↓
Recommended Videos
As the region's top mechanic, Acedera brought home a cash prize of $1,000 and an opportunity to watch the Malaysian leg of the MotoGP series and join the pit crew of the San Carlo Honda Gresini Team.
"It has been an amazing experience. I was in the garage of the San Carlo Honda Gresini team with some of the world's best racing mechanics," said Acedera. "It felt great to feel the racing atmosphere. And when I was taken to the starting grid moments before the race started, I could see the tension in the riders' eyes."