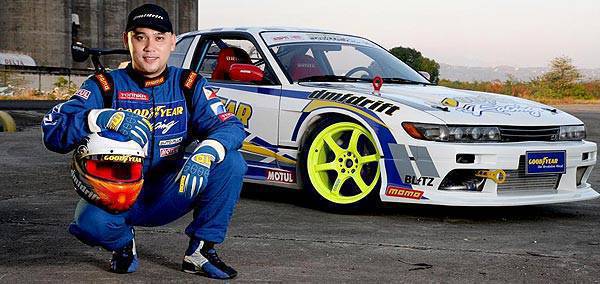 Goodyear continues to support Philippine motorsports by sending two Filipino drivers to compete in the Goodyear Formula Drift Thailand later this month.
"Goodyear is strongly committed to drifting, the fastest growing motor sport in the country and in the ASEAN region," said Gerry Alava, managing director of Goodyear Philippines. "From the onset we have dedicated ourselves to building and nurturing talent within the ASEAN drifting community."
Like last year's event, Goodyear Philippines is sending the DMF Drift Team headlined by one of the country's top drifters, David M. Feliciano. The DMF Drift Team holds the distinction of being the first Filipino team to compete in an international Formula Drift competition.
This year, however, Goodyear Philippines will be fielding another drifter, Goodyear Autocare Dealer and rising drift driver Norman Agojo, a seasoned businessman who secured a spot at the podium in the recent Lateral Drift Pro-Am championship.
For Formula Drift Thailand, Feliciano will once again bring his "Great White," a white 1989 Nissan Silvia PS13 while Agojo will be armed with his Nissan Skyline R33. Throughout the event, both cars will be shod with Goodyear's Eagle F1 Asymmetric tires.
Competing against both Feliciano and Agojo are the leading drift drivers from Thailand, Malaysia and Singapore, along with Ryuji Miki, champion of the 2004 D1 Grand Prix from Japan, and Fanga Dan from New Zealand.
Continue reading below ↓
Recommended Videos
The Goodyear Formula Drift Thailand 2010 will be held at the Wonderworld Park in Ramindra, Thailand on November 20 and 21.