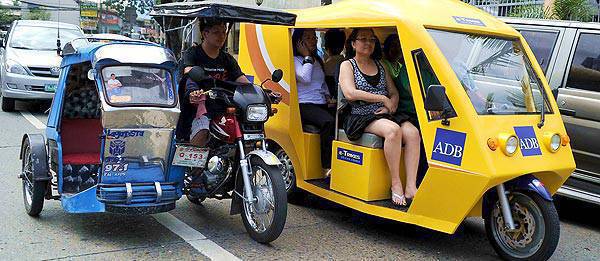 President Benigno Aquino III and the Asian Development Bank (ADB) rolled out 20 electric tricycles (e-trikes) for Mandaluyong City, marking an "important first step towards a sustainable, energy-efficient transport model for the country."
"Working together, we can give Manila cleaner air, bluer skies, and a more livable environment," said Kunio Senga, director general of ADB's Southeast Asia department. "The Philippines is assuming a leading role in Asia in supporting green transportation alternatives, and if e-trikes are followed by new fleets of electric buses and jeepneys, the effect could be transformative."
The 20 e-trikes were funded by the ADB to introduce energy-efficient transportation alternatives to the country. According to the regional development bank, over 3.5 million combustion-engine-powered tricycles are currently running in the Philippines, producing more than 10 million tons of carbon dioxide and consuming nearly $5 billion of imported fuel each year.
As part of the pilot project, the ADB will install four charging stations in Mandaluyong City, allowing an e-trike to charge its batteries to 50-percent capacity in less than 30 minutes. In line with the ADB's energy-efficiency drive, one of the four charging stations will use solar energy.
The regional development bank is also currently coordinating with the government and other development partners on a proposed project to ramp up the rollout of more e-trikes not only in Metro Manila but in other urban areas as well as early as next year.
Continue reading below ↓
Recommended Videos
"Every 20,000 e-trikes that are introduced to Manila's streets will save the Philippines 100,000 liters of foreign fuel imports each day, saving the country about $35 million annually," said Sohail Hasnie, ADB's principal energy specialist. "This initiative not only benefits the environment, but it also supports the Philippines drive to become more energy independent."
Though the new e-trikes are more expensive than the traditional petrol-powered motorcycles, it more than makes up for it by being less costly to operate and maintain in the long run. This, in turn, increases the income of e-trike operators.
The ADB-funded e-trikes use lithium ion batteries and can be recharged approximately 2,000 times, unlike the lead acid batteries used in older e-trike models that need to be replaced every two years.