Yesterday was the 76th birthday of Filipino racing legend Pocholo Ramirez.
The night before, I was in his house in Valle Verde in Pasig to celebrate the occasion with his family - including children Kookie, Georges, Louie, Michelle and Miguel - and some really close friends.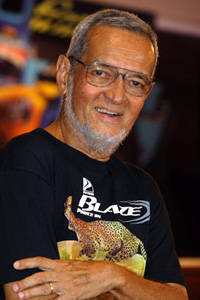 I didn't know what I was doing there. As far as I was concerned, I hadn't done anything remarkable to deserve a spot in that intimate get-together. But Sir Poch - seriously ill with bladder cancer - was gracious enough to welcome me to his domestic circle.

"This is not yet a funeral," the man everyone calls 'the Gentleman Racer' jokingly announced as he descended the stairs to join everyone in the living room. In spite of the tube jutting out of his nostril, he seemed to be the most courageous person in the room. In spite of looking very thin and frail, he seemed to be the strongest. And most important, as proven by his casual stab at humor, he also seemed to be the most cheerful.

You know the man. You don't need this column to tell you who he is. Long before his turn as Petron's endorser in its Xtra Mile Challenge marketing campaign, he had been the main face of Philippine motor sports - a mantle he quickly and effectively assumed as soon as Dodjie Laurel figured in a fatal racing accident in 1967. "He was my teacher and mentor after I attended his racing clinic in the mid-Seventies," champion race driver Jody Coseteng said in a specially produced video shown to the guests of the party. Sir Poch must have been a very good teacher, because Jody went on to trade race victories with his guru's own sons - one of whom, Louie, told his dad in the video: "If I can be half the man that you are, I'll have a very successful life."

By all accounts, Jose Ramirez didn't have just five children. He had many, as evidenced by all the adoring men and women who paid their tributes in the video. Jojo Silverio, who had practically grown up in the Ramirez household as a kid, waxed poetic and said: "The man with the beard is the racer to be feared." Meanwhile, Mike Anton had such a profound respect and admiration for the old man that "I named my son after him." Indeed, if there's a common denominator in what people say about Sir Poch, it is that he has a heart so big he has the capacity to accommodate anyone - regardless of status - in his life.

I wholeheartedly concur.

I met the guy 13 years ago when I was just an editorial assistant for a car magazine called Automotion. He wrote a column for us then. Knowing his background as a racing legend - not to mention his skirt-dropping mestizo good looks - I was pretty sure he'd frown upon a young nobody pestering him about his column deadline. He didn't. In fact, he treated me as though he had known me all his life. He remembered my first name on our second meeting. By our third encounter, he had already made me feel like a son. The world of motoring wasn't exactly filled with bloated egos, I thought. Which probably did a lot in convincing me to stay and carve out a humble career as an automotive journalist. Had he thoughtlessly snapped at me, I would have scampered over to the show-business beat, where I must now be writing about the cars of Willie Revillame. Thank God for Pocholo Ramirez.

After the video tribute ended, there was muffled sniffling. For the first time perhaps, the very real possibility that a truly special man might soon leave us had sunk in. When he spoke to thank everyone, Sir Poch couldn't hold back his emotions. It was too much of a sight. The man who was the very definition of machismo had been reduced to tears.

Everyone then lined up to either hug or kiss him. Motoring Today host Butch Gamboa urged me to follow his lead and do the same. When Sir Poch saw his sparring partner - Butch had been a longtime friend and a cohost on the aforementioned TV show - he stood up to receive a brotherly embrace. Sir Poch only rose for Butch, an act that I was pretty sure took a lot of agonizing effort on his part. Their friendship must have been something else, I imagined.

Sir Butch would later relate to me how they'd met: "I met my wife while playing pelota at ABS-CBN. Eventually, I met Pocholo - her boss at the Automobile Racing Association of the Philippines where she was the secretary - when I fetched Babes from the ARAP office located at the Coronado Lanes in Makati. Pocholo was very protective of her then, being the valued niece of his friend. He even referred to me as a 'snuck.' This I learned much later when Babes and I were already married, and Poch and I were very good friends."

And how did they end up together on the country's longest-running motoring TV show? "I had the first opportunity to work with Pocholo when I produced the TV coverage of the Philippine Grand Prix, which was held on a street circuit in what is now known as the Ortigas Center," recalled Butch. "Immediately, I discerned the professionalism of the man in his dealings with me. When I decided to put up Motoring Today, I had no one else in mind to work with as a cohost but Pocholo. His mere presence as the country's racing living legend lent absolute credence to the show."

Speaking of the TV show, Sir Butch narrated how his ailing partner had recently insisted to still go on air despite his very weak condition. It was obvious that not even cancer could black-flag him into the pit lane. True enough, after everyone had showered him with affection at the party, he barked at his son Georges: "Let's hop on a car and drive to Subic!" At that poignant moment, you could sense that everyone ached to grant him his wish.

Sunday night wasn't a funeral all right. It was a victory lap in which a lifetime of fans cheered Pocholo Ramirez on, begging him to go for another race or two. "I hope you'll go the extra mile," said Petron advertising and promotions director Charmaine Canillas. It was a victory lap because his most stirring victories had not been won on the racetrack; his biggest triumphs had been claimed in his household, in the clubhouse, in the boardroom, on the badminton court, and in most public places where he gave even the biggest nobody the time of day and his signature wink.

I hope to God I didn't see the last of Sir Poch. But even if I did, I would just imagine he'd merely hopped on a car and driven to Subic. In my mind, he shall be racing forever - inspiring nobodies to take the wheel and make a run for it.


ADVERTISEMENT - CONTINUE READING BELOW ↓