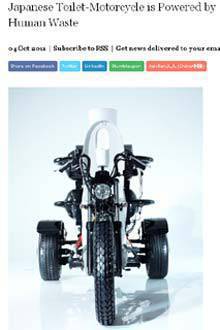 Pinoy motorists usually hate getting close to motorcycle riders as bikers tend to squeeze their way through traffic, putting cars at risk of getting scratches and dents. If this TOTO motorcycle reaches the Philippines, we expect a more snobbish crowd on the road.
Sanitary-equipment maker TOTO has ventured into vehicle-making without abandoning the product it is widely known for as it has developed a vehicle that runs on biogas. Simply put, the TOTO toilet-motorcycle runs on human poop.
TOTO's toilet motorcycle, or the Toilet Bike Neo, was developed under the TOTO Green Challenge campaign in line with the company's goal of cutting to 50 percent carbon dioxide emissions in bathrooms by 2017.
"Theoretically, as long as the driver continues to eat and drink, the motorcycle could run forever!" says Spoon-Tamago.com. That means no more trips to the fuel station and saving time in the loo.
Do you think this is better than the urinals scattered in Metro Manila? It may as well be. After all, this rolling toilet plays music, writes messages in the air with light imagery, and talks. What could it possibly say?
We may soon find out as the Toilet Bike Neo is set to tour Japan for a month. The motorcycle will stop in certain areas between Kyushu and Tokyo to educate people on green initiatives, DesignTaxi.com said.
Continue reading below ↓
Recommended Videos