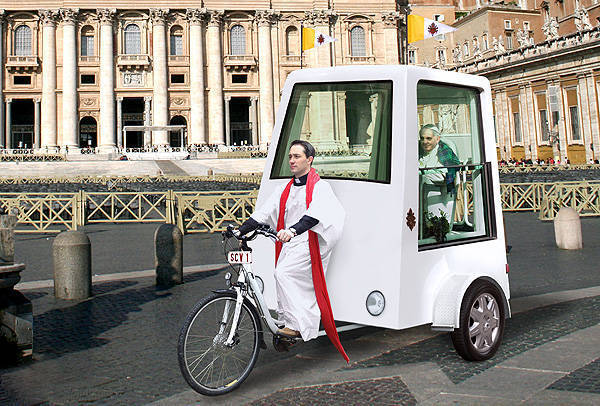 Pope Francis is making another step toward cementing his image as the people's pontiff by being the first head of the Catholic Church to ride in the first-ever, pedal-powered Popemobile.
The carbon-neutral Popemobile was originally commissioned by the Environmental Transport Association (ETA) after Pope Francis's predecessor, Pope Benedict XVI, expressed his desire for "a green, all-electric vehicle."
With a price of £175,000 (P10,863,000), the pedal-powered Popemobile costs only half the amount of the pontiff's current car. And in contrast to the current 5.0-liter V8 gasoline-engined Popemobile, the pedal-powered version is silent and has zero emissions.
Some of the equipment the pedal-powered Popemobile is fitted with are:
* 8mm bulletproof Plexiglas windows;
* Roof-mounted solar panels to power the air-conditioning and trickle-charge the main battery;
* An operational speed of 10kph with emergency power train boost (with a top speed 60kph);
* Low-voltage spotlights in the floor and roof compartment to illuminate the vehicle's passenger;
ADVERTISEMENT - CONTINUE READING BELOW ↓
* Blast-proof body panels constructed from lightweight titanium and ceramic composite; and
* Built-in oxygen supply
"Cycling is the great leveler--a means of transport as serene as it is practical, and an entirely appropriate way for a Pope to travel," said the pedal-powered Popemobile's designer, Yannick Read. "The green credentials of the vehicle dovetail perfectly with Pope Francis's image as the people's pontiff."
According to the ETA, if the design plans receive final approval today, April 1, the Pope will take delivery of the pedal-powered Popemobile later this year.
This being April Fools' Day, we'll take this one with a grain of salt.
ADVERTISEMENT - CONTINUE READING BELOW ↓
Recommended Videos