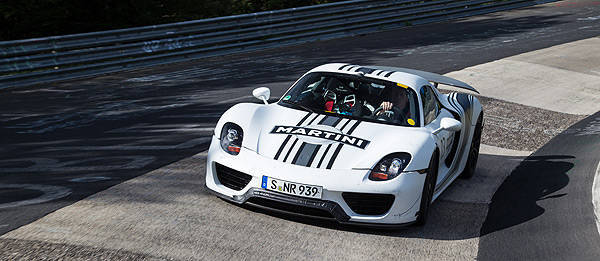 With its layout offering different challenges to test a car's handling, the Nurburgring's Nordschleife circuit is often used by carmakers to test their high-performance automobiles and find out their lap times--unofficially--against those of other brands.
Recently, Porsche brought one of its 918 Spyder prototypes to the famed track where it turned in a time of seven minutes and 14 seconds, proving its performance potential and surpassing all of the German carmaker's expectations. In case you forget, the 918 Spyder is Porsche's first plug-in hybrid car.
Although there's no official record keeper for the lap times set at the circuit, in comparison with the cars from other carmakers, the time set by the 918 Spyder puts it on a par with the time achieved by the Lexus LFA Nurburgring Package, which also lapped the circuit in seven minutes and 14 seconds.
"By turning in a fabulous time of 7:14 minutes, the 918 Spyder prototype has already fully confirmed the viability of its future concept after just a few months on the road," said Dr. Frank Walliser, overall project leader for the 918 Spyder.
The circuit was only available to Porsche for one lap, with the 918 Spyder having to do a standing start. According to Porsche, the car was equipped with production tires from development partner Michelin and had the optional 'Weissach' package, "which integrates modifications that boost driving performance."
Continue reading below ↓
Recommended Videos
So, do you believe this claim?