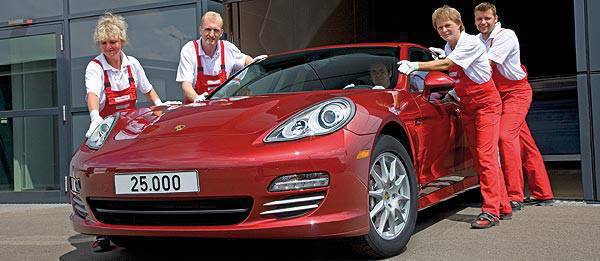 Only ten months after it first went on sale, the Panamera has hit a milestone with the model's 25,000th unit rolling off the Porsche factory in Leipzig, Germany.
The landmark vehicle packs a 3.6-liter 300hp V6 engine. The ruby-red Panamera will soon be delivered to its customer in the Unites States of America.
"The benchmark performance of our Panamera V6 models wins over our customers worldwide," said Bernhard Maier, Porsche's executive vice president for sales and marketing. "Even in the USA, a country with a preference for V8 engines, they impress with their efficiency and sportiness. The 4-door combines these aspects with the comfort and exclusivity of the luxury class."
The Panamera first rolled out of the Leipzig factory in September 2009. Initially, the Panamera only had a 4.8-liter V8 engine--naturally-aspirated to produce 400hp for the Panamera S and Panamera 4S, and twin-turbocharged to eke out 500hp for the Panamera Turbo. The 3.6-liter V6 engine only became available for the Panamera and Panamera 4 in May.
ADVERTISEMENT - CONTINUE READING BELOW ↓
Porsche plans to introduce a Panamera with a hybrid drive system next year. It will be similar to the Cayenne S Hybrid's system that is expected to go on sale before the end of 2010.
ADVERTISEMENT - CONTINUE READING BELOW ↓
Recommended Videos