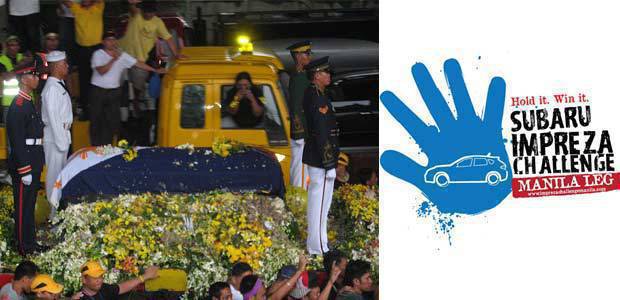 When the four honor guards stood in rapt attention for nine hours to escort the remains of the late President Corazon Aquino to her final resting place, they drew the entire nation's admiration and respect. This weekend, they are bound to impress again in the hopes of representing the country in a regional competition for a brand new Subaru Impreza WRX 2.5 Turbo.
Navy Petty Officer 3 Edgardo Rodriguez, Air Force Airman Second Class Gener Laguindam, Police Officer 2 Danilo Malab Jr. and Army Pfc. Antonio Cadiente are joining this year's Subaru Impreza Challenge from September 12 to 13.
The Subaru Impreza Challenge tests one's discipline and stamina as the contestants battle both the elements and their body's cry for rest for the ultimate goal of winning a brand-new Subaru Impreza worth P1.728 million. With the kind of weather we've been having, this year's competition is looking to be a wet one, indeed.
Continue reading below ↓
Recommended Videos
There is no turning back once a contestant places his right palm on one of four Subaru Impreza units at Block 10 in the Bonifacio Global City. Much like their sacrifice during Mrs. Aquino's funeral march, the four honor guards and the other Impreza challenge participants will spend hours without food or water and will have to hold in calls of nature except during the five-minute breaks during the entire competition which is expected to last until the next day.
The last ten competitors holding on to the Impreza at the end of the challenge will be flown on an all-expense paid trip to Singapore to go against finalists from other Asian countries for the brand new Subaru Impreza and a cash prize of P100,000.

Those who believe they can beat the men in uniform who have been tagged as the "Fantastic Four" have until 10 a.m. on Sept. 12 to sign up for the Subaru Impreza Challenge - Manila Leg. A briefing on the rules and regulations and the raffling of car assignments will be held before the Impreza Challenge officially kicks off at noon.
Motor Image Pilipinas, the exclusive distributor of Subaru vehicles in the country, will display its full model lineup at the venue, while members of the Subaru Club Philippines will also exhibit their respective cars. The venue will then turn into a party place tomorrow night when 99.5RT FM does a live broadcast of its 24k Weekend hits starting at 6 p.m.