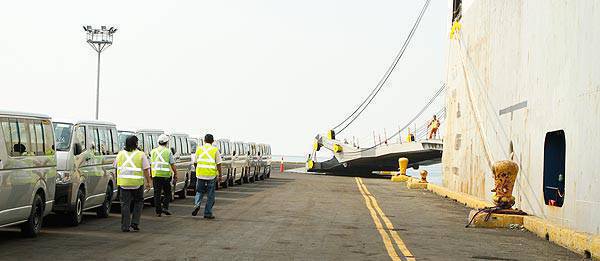 Tired of congressional hearings about corruption and scandals? Here's something that will definitely keep you glued on the television later this week: a probe on the alleged conspiracy between officials from the Bureau of Customs and car distributors that may have resulted in undervalued assessments on imported vehicles since 2007.
The decision to look into the allegations came after Zambales Rep. Milagros Magsaysay filed House Resolution 709, which calls for the Customs and car distributors to submit their payment records. This will allow legislators to check reported undervaluation charges and determine what the Customs has done to address the issue.
Magsaysay said she has been receiving reports that vehicles imported by Toyota, Mitsubishi, Nissan and other members of the Chamber of Automotive Manufacturers of the Philippines (CAMPI) are not being properly assessed by the BOC prior to their release from the customs zone, resulting in the undervalued payments of taxes and duties. The same practice was reportedly applied also to the distributors of Mercedes-Benz, Jaguar, Porsche, Audi, BMW and other luxury vehicles, which likewise resulted in the undervaluation of these vehicles' taxes and duties.
The lawmaker cited one example of undervaluing happens when vehicles are assessed per lot instead of per unit. This means that the vehicles of the same brand and same model are assessed with a specific amount, and not based on a vehicle's engine displacement or horsepower capacity.
Continue reading below ↓
Recommended Videos
"It was alleged, for example, that a Mercedes-Benz S Class 350 is assessed at P2,000,000, the Mercedes-Benz Class 500 is assessed also at P2,000,000. If this is found to be true, then the government lost millions of pesos on the undervaluation of taxes and duties paid on Mercedes-Benz S Class 500," Magsaysay added. "Another example, a Toyota Vios 1300 is assessed for instance at P200,000, the Toyota Vios 1600 is assessed with the same rate of P200,000."
CAMPI president Elizabeth Lee welcomed the probe, saying that the issue of undervaluation "impacts on the viability of business and…is against the thrust of having a level playing field" in the local automotive industry.
"As our contribution to address this problem, we are cooperating with the Bureau of Customs in setting the correct valuation by providing accurate reference values," Lee said. "Although CAMPI as an industry association cannot look into the business operations of our members, the association however can participate in information dissemination that needs to be relayed to our members, so members can respond appropriately and in a timely manner."
Do you think there's truth to the allegations against the Bureau of Customs and some of the car distributors?
Photo by Vincent Coscolluela