Squabbles within the local (and actually even global) motorsports community are nothing new. Some are as harmless as good-natured paddock ribbing, others are as serious as a pit-lane rumble. There's a new one brewing online, which has been providing social-media entertainment to members of the auto-racing fraternity.
On May 12, Circuit Showdown organizer and Asian V8 Championship driver Enzo Pastor posted this on his Facebook wall: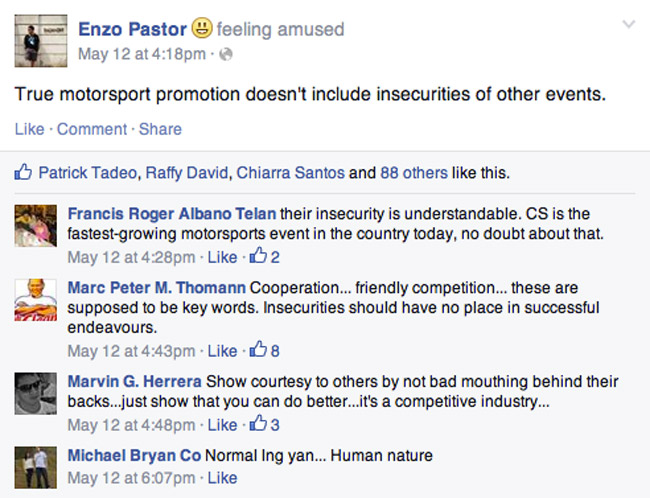 Because the post was basically a blind item, one couldn't immediately tell which individual or group Pastor was referring to. And then Pastor posted the following message yesterday:

Continue reading below ↓
Recommended Videos
This time, it became apparent as to who was on the receiving end of Pastor's online potshots. You see, the outfit behind Toyota Motor Philippines' upcoming Vios Cup is none other than JP Tuason's Tuason Racing School. And it looks like Pastor has a couple of issues based on his posts: first, that he believes Tuason's group is saying negative things about his events (either the Circuit Showdown or the Asian V8 Championship, or both), and second, that he feels Tuason is implementing a double standard in accepting driver applicants to the Vios Cup, which has made it impossible for Pastor's team to join.
And then several hours later, Tuason posted this loaded message on his own Facebook wall: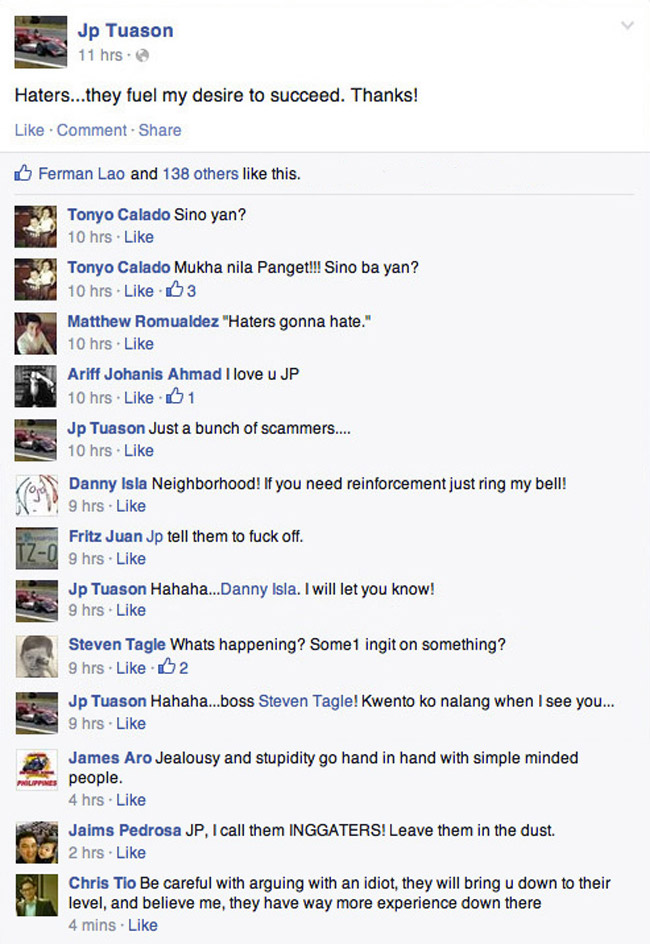 If we're correct, the phrase "a bunch of scammers" refers to the recent development in which the US racing series NASCAR (National Association for Stock Car Auto Racing) formally denied affiliation with the Asian V8 Championship Series, which is currently being organized by Tom Pastor, Enzo's father. The local race series had been using the NASCAR name in its marketing efforts, and the organizer of the real NASCAR series apparently wrote Automobile Association Philippines--the authorized motorsports sanctioning body in the country--a complaint letter saying its name shouldn't be used in any way by the so-called Asian V8 Championship.
Anyway, we hope this is all there is to this online tussle. Both JP and Enzo are friends of TopGear.com.ph, and we wish their endeavors only the best.
UPDATE: Enzo Pastor sent us his reaction to the story. "In response to the online issue brewing, in my first post regarding 'motorsport promotion', just to clear the air, I was referring to a colleague with the initials E.L.," he said. "I just heard some comments that were unpleasant. With the second post regarding the Vios Cup, it was an inquiry that turned into surprise. Had we known earlier, we could have helped get more cars on the grid because I had many Circuit Showdown drivers keen on being part of the program considering its stature and prizes."