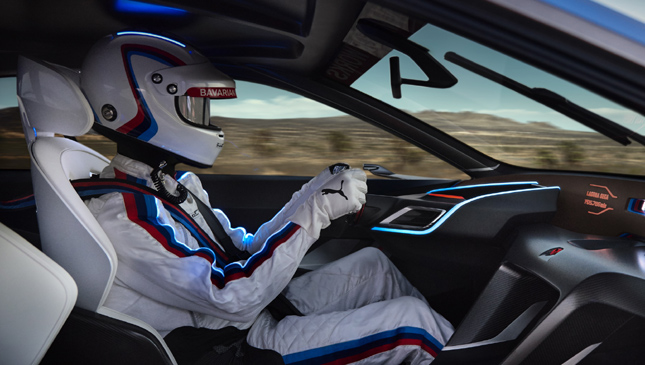 BMW and Puma have just revealed what is probably the racing suit to rule all racing suits. Seriously, this thing is reminiscent of Tony Stark's computer-assisted power armor--minus the armor, that is.
The two German companies have created a racing suit that utilizes Bluetooth wireless technology to establish a connection between the driver, his suit and his vehicle. The helmet even features a head-up display that projects information such as speed, rpm, current gear, braking point and racing line.
The driver's gloves and the suit's sleeves feature illuminated piping that activates upon making contact with the car's steering wheel. This shows the progress of vehicle data traveling through the suit. Hell, this tech would leave even J.A.R.V.I.S. impressed!
Puma global creative director Torsten Hochstetter says the suit is a prototype to further develop drivers' integration with their racing vehicles.
"We are constantly striving to innovate and develop new performance technologies, and this project with BMW is a great example of what can be achieved," Hochstetter said. "The CSL 3.0 Hommage R Concept Driver outfit project allowed us to explore innovations that will bring key benefits in the future. The notion of a concept car was translated to the driver outfit and allowed our innovation team to explore the limits of what can be achieved. We are working on developing the performance innovations for integration into future motorsport performance products."
Continue reading below ↓
Recommended Videos
A smaller secondary dashboard display will provide the driver with less important vehicle information. BMW says that the helmet's HUD can be customized to display different types of info, but wouldn't go into details.
Now all they have to add are audio controls so we can blast some AC/DC through our helmet à la Tony Stark, and we're sold!