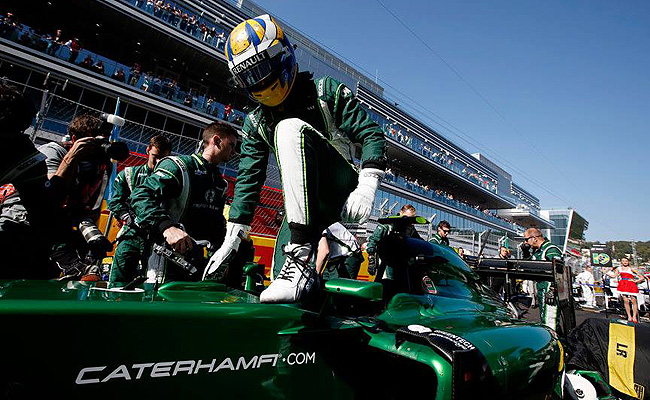 The Caterham F1 team, along with Marussia F1, failed to participate in the recent United States Grand Prix as both teams were placed into administration due to financial problems.
While it has been reported that Marussia F1 has officially folded, Caterham F1 is still hopeful that it can participate in the season-ending Abu Dhabi Grand Prix and beyond through crowdfunding.
Through Crowdcube.com, a crowdfunding platform based in the United Kingdom, Caterham F1 has launched the #RefuelCaterhamF1 project by rewarding its fans and sponsors a "unique opportunity to be the driving force behind the team" in its return to the starting grid.
By pledging from just £10, Caterham F1's supporters "will receive unique rewards, including a once-in-a-lifetime opportunity to get your name on the Caterham F1 car competing in the Abu Dhabi Grand Prix."
The problem the team is facing is that it needs to raise its target of £2.350 million by November 14, which is a week from now.
"We are working nonstop to get the Caterham F1 team back racing, initially in Abu Dhabi, but hopefully that will be just a stepping stone to get it back racing on a permanent basis, under new ownership," said interim Caterham F1 team principal Finbarr O'Connell. "In order to achieve that, one of our most useful, innovative and effective options right now is crowdfunding. We want to get as many sponsors and fans as possible involved this week and make our comeback something we can all be part of. If we don't hit the target by next Friday, obviously the pledged funds will be returned, but right now we are hopeful for the future of the team. We are confident that the team showing the world that it can race again will lead to a bright future under a new owner on a proper financial footing."
Continue reading below ↓
Recommended Videos
Do you think Caterham F1 deserves to be funded, or should it just follow Marussia's lead and fold altogether?