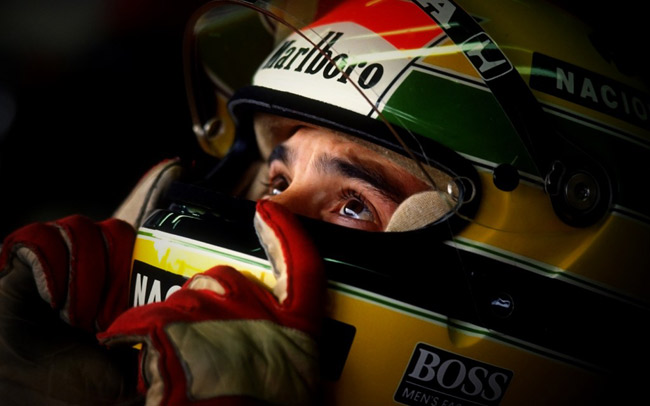 "Seventy-eight--I came to Europe for the first time to compete outside Brazil in the world championship. It was pure driving, pure racing."
Any true fan of Formula 1 would recognize those words as the ones that opened Senna, the 2010 documentary about the Brazilian racing legend. Many among us in the sport's current audience hadn't had the privilege of watching Ayrton Senna compete during his 11-year career in F1, and this film allowed us to see his best and worst, not just as a racing driver but also as a man. Starkly portrayed, too, were the events leading up to the crash that took away his life on the seventh lap of the 1994 San Marino GP. He was 34 years old.
This day, May 1st, marks the 20th year of Senna's death. "Senna Week" is in full swing--feature stories have been prepared, archive clips have been dug up, countless tributes are being given. In our case, another viewing of Senna seems a simple but fitting way of remembering the three-time champion. It's never easy, near the end, to watch him sitting deathly still in that wrecked Williams, his trademark yellow helmet hiding the extent of his injuries. What we choose to focus on, however, are his most memorable and spirited moments as depicted in the film. Here are five of them.
Continue reading below ↓
Recommended Videos
1984 Monaco Grand Prix
Senna's driving skills in the wet were astounding, and he used them to great effect, sometimes staying in dry-weather tires and picking off struggling contenders. One example of this is the 1988 Japanese GP, which was shown in the film. Another oft-cited example that didn't make the final cut is the 1993 European GP, which saw him go from fifth to first within one lap of Donington Park.
That said, Senna accomplished his standout wet-weather feat during the 1984 Monaco GP--his first street race in his first F1 season. On the sodden Monte Carlo circuit, the rookie hustled his Toleman from 13th to second. "I think we are watching the arrival of Ayrton Senna, a truly outstanding talent," commented James Hunt for the BBC. "He's catching Alain Prost at something like three seconds a lap, and that is a truly staggering performance."
Unfortunately, the controversial race stoppage on lap 32 gave Alain Prost the win, and Senna this valuable lesson: "Formula 1 is politics, money. And while you are making your way through it, you must deal with such things."
Pre-race drivers' briefing, 1990 Japanese GP
The race in Suzuka was a pivotal point in the championship battle for the third time in a row. A dark cloud loomed permanently over the Senna-Prost relationship due to their collision the previous year at the Casio chicane (the political maneuvering that ensued gave the 1989 title to Prost). In Senna's eyes, there was no fighting clean against the Frenchman and his compatriot Jean-Marie Balestre, the F1 governing body's president who had a knack for coming up with comically villainous lines like: "Best decision is my decision. Is the best--every time--decision, my decision."
So, when Nelson Piquet Sr. brought up the "big fuck-up" that was last year's chicane-gate during the drivers' briefing, Senna walked out--but not before declaring: "I can't stand it...I can't stand this...it's a joke. After what happened last year, it's a joke...the situation. It just proved here...I said nothing, and you see somebody raising the point, and you see everybody agreed. And last year was really bad for me." He likewise felt that the verdict to move his pole position to the dirty side of the starting grid was not the best decision. The repercussion of all this? Title number three--following his most ruthless on-track maneuver.
Martin Donnelly accident, 1990 Spanish GP
Ironically, the Jerez round directly preceding the Suzuka race showed the other extreme of Senna's personality--the part of him that cared very deeply about the safety of his fellow competitors. When Martin Donnelly had a horrific crash during Friday practice, Senna arrived at the scene to ask about the Lotus driver.
While he was greatly affected by the incident, he later said: "In the end, I realized I was not going to give up my passion. I had to put myself together and walk out, go to the racing car, and do it again. And do it again, and do it even better than before, because that was the way to kind of cover that impact it had on me. I was just not ready to give up. As much as I was scared to continue, I was not ready to give up my aim, my target, my objective, my passion, my dream, my life. This is my life."
That interview with Sir Jackie Stewart...
...aka the source of that widely quoted sound bite about gaps and racing drivers. Referencing the start of the 1990 Japanese GP, the Scottish three-time champion pointed out that Senna had made more contact with other drivers than all the other F1 champions since 1950 combined. Suffice it to say he hit a nerve.
"I find amazing for you to make such a question, Stewart, because you are very experienced, and you know a lot about racing," Senna retorted. "And you should know that by being a racing driver, you are under risk all the time. Being a racing driver means you are racing with other people. And if you no longer go for a gap that exists, you're no longer a racing driver. Because we are competing. We are competing to win. And the main motivation to all of us is to compete for victory. It's not to come third, fourth, fifth or sixth."
Twenty years on, here is how Stewart--we mean, Sir Jackie--feels about that interview and Senna's win-at-all-costs mentality.
1991 Brazilian GP
Senna's in-car celebration after his first-ever win in Brazil was all raw emotion. The cogs of his gearbox had decided to retire prematurely, so he had to navigate the last few laps of Interlagos in sixth gear. When the checkered flag was waved to the tune of the requisite cheesy victory music (remember, this was the '90s), the McLaren pit wall was treated to the home hero's manic shouting.
He was delirious not just from happiness, but also from muscle cramps--such was the effort he'd exerted to finish the race that he passed out and had to be lifted from the car. "The pain was tremendous. The physical and mental stress of this weekend was unheard of," he admitted. "But there could only be one result. I finished the race with nothing left. I wanted to finish the race and finish in first position, because He is the greatest and He will give me this race after all. That's what happened. It is God who gave me this race and I am happy."