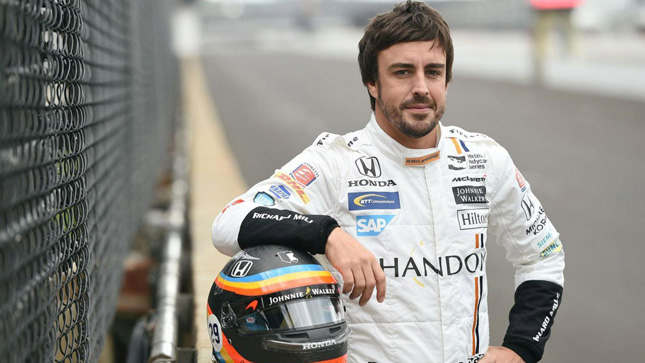 Fernando Alonso has announced that he will no longer race in Formula 1 after this season. The 37-year-old Spaniard said: "After 17 wonderful years in this amazing sport, it's time for me to make a change and move on.
"I have enjoyed every single minute of those incredible seasons and I cannot thank enough the people who have contributed to make them all so special."
He began his Formula 1 career back in 2001 with Minardi, before he won his two world championships with Renault in 2005 and 2006. He went to McLaren in 2007—where he was up against a then-rookie Lewis Hamilton—followed by a further stint with Renault in the 2008 and 2009 seaons.
Continue reading below ↓
Recommended Videos
In 2010, Alonso switched to Ferrari where he campaigned for five seasons, coming close to clinching the championship on two occasions. He returned to McLaren in 2015 where he attempted to reclaim the team's former glories.
Alonso will continue with McLaren for the remainder of the 2018 season, while his replacement has yet to be announced. The two-time F1 world champion has yet to announce his plans for 2019 and beyond. Earlier this year he won the Le Mans 24 Hours behind the wheel of a Toyota LMP1 car, and has previously raced at the Indy 500. Will he return there in 2019 as he attempts to sweep motorsport's Triple Crown?
"Let's see what the future brings," Alonso said. "New exciting challenges are around the corner. I'm having one of the happiest times ever in my life but I need to go on exploring new adventures," he added.
He apparently made the decision to retire from the sport a few months ago—a 'firm' decision—though noted how Liberty Media and F1 boss Chase Carey had tried to persuade him to remain in Formula 1.
Alonso has been a vocal critic of McLaren's underperforming car of late, during the team's troubled tie-up with Honda, and more recently with Renault. Though he hinted at a potential return further down the line. "I know they will come back stronger and better in the future," he said of the team's fortunes, "and it could be the right moment for me to be back in the series. That would make me really happy." He knows how to tease.
Zak Brown, McLaren Racing boss, said: "There is a time for everyone to make a change and Fernando has decided the end of this season to be his. We respect his decision, even if we believe he is in the finest form of his career. Our open dialogue with Fernando has meant we could plan for this eventuality.
"We wish Fernando every success in the future," he added.
NOTE: This article first appeared on TopGear.com. Minor edits have been made.