This is the Honda NSX GT3 Evo, and that's a combination of suffixes that ought to get any petrolhead in a right old mess. Although it's not strictly a Honda—it's been unveiled as an Acura, because that's who manufactures the NSX over in the States.
But that's barely worth fretting about when there's so much other stuff to coo over. Compared to last year's NSX GT3, there's more dramatic bodywork—tightening up handling while increasing the top speed—as well as some component tweaks beneath the skin.
What a skin, though. New splitters and diffusers reduce drag and improve cooling—a combination that makes the car not only quicker, but also easier to drive for amateur racers. As a handy byproduct, it looks flipping brilliant.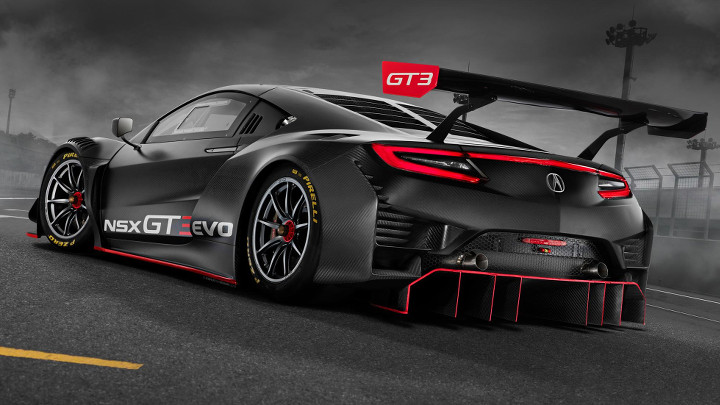 Continue reading below ↓
Recommended Videos
Less visible tweaks include new turbochargers on the 3.5-liter V6, sharpening throttle response, tweaked ABS brakes, and an upgraded Bosch data-logger so you can see just how slowly you're going in even greater detail. All those upgrades can be added to non-Evo NSX GT3s, so worry not if you're a slightly miffed current owner sat with your jaw jamming down your keyboard's space button.
Better cooling and more finessed parts all contribute to a 25% increase in engine and component longevity, too. Quicker, better looking, and more reliable. What's not to like?
The fact that there's no hybrid system or flattering four-wheel drive, like in the road-going NSX. Fitting in with GT3 regulations limits the tech the Evo can boast, so much of the fancy trickery from the showroom is binned.
It also comes with lots of frustrating blanks on the spec sheet thanks to GT3 racing's Balance of Performance rules. But they do mean it weighs around 1.2 tons—just like a hot hatch—while producing 500hp or so in most race series it'll enter. Which is a healthy combination.
Hands up, who wants a go? Or do the Audi R8 GT3 Evo and Lambo Huracan GT3 Evo do it for you more?
NOTE: This article first appeared on TopGear.com. Minor edits have been made.