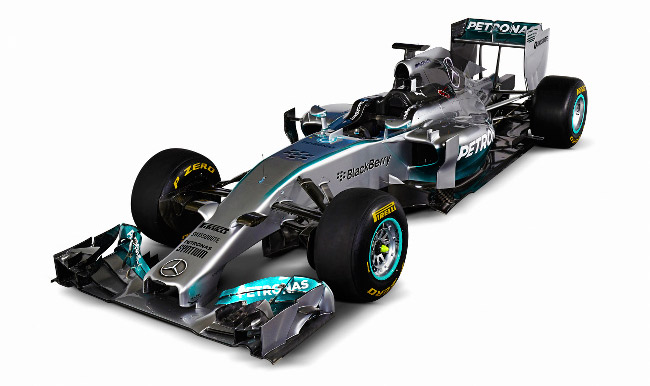 Finally, we have a looker.
For the past few years, Mercedes has been pirating some of the best brains in the Formula 1 paddock--folks like Bob Bell (technical director), Aldo Costa (engineering director), Geoffrey Willis (technology director), and Paddy Lowe (executive technical director). And it would've been a great outrage if such a wealth of directors were to produce an ugly thing on four wheels.
Fortunately, these men have given us at least one nice car to look at this 2014 season: the Mercedes F1 W05. Just check out the stunning images.
"For 2014, we have probably the greatest change in regulations in Formula 1 history and the start of a new era for our sport," says Lowe. "From a technical and also a racing perspective, this is an incredibly exciting time for Formula 1. We are introducing technologies that are new not just to racing but to the wider automotive world as well."
"The headline is that of improved efficiency, and the fact that we will be completing races with advanced hybrid systems on just 100kg of fuel, sends a great message about the technology that Formula 1 can deliver," continues Lowe. "But it is also about the technology that Mercedes-Benz can develop compared with our competition, both for the chassis and the new power unit. The whole team has done a fantastic job on the management of the project and its delivery."
Continue reading below ↓
Recommended Videos
How fantastic a job? "We have hit our milestones and hit our targets," Lowe states, "but, as ever, we will only begin to understand how successful we have been once we begin running in anger on track. The new car is an elegant but aggressive design, and as is often the way, its beauty is much more than skin-deep; the internal engineering of the car is extremely innovative and intelligent. Our team can be justifiably proud of its work so far--but none of us are under any illusions about the amount we still have to do before the first race in six weeks' time."
That's one of the most quietly optimistic statements we've heard from a team this pre-season, and here's the kicker: As of this writing, only the F1 W05, with Lewis Hamilton behind the wheel, has gone straight onto the Jerez track in the first morning of testing. Meanwhile, the Ferrari F14 T has acted up on Kimi Raikkonen in their first exploration of the circuit, and the Red Bull RB10 has developed some problem that's keeping Sebastian Vettel from taking it out.
The pecking order can't be deduced from testing, but we daresay this looks like a promising start for Merc.