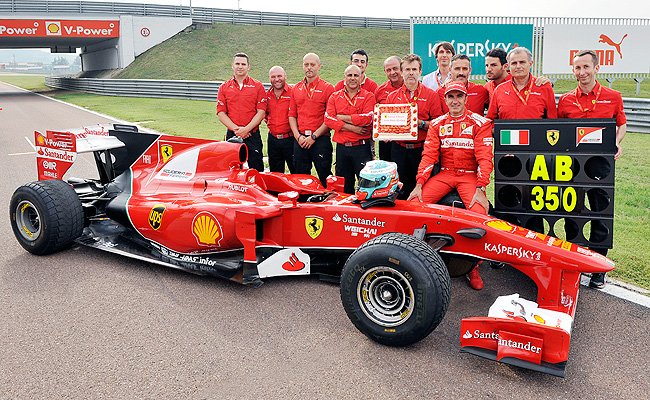 The name Andrea Bertolini may not ring a bell, but it's a name that commands respect, particularly if you're a fan of Scuderia Ferrari. Why? Because Bertolini has driven 350 of Ferrari's Formula 1 cars, specifically those from the 1974 season onward.
Bertolini has been with Ferrari since 1990, starting as a 17-year-old working on the Italian carmaker's test bench while racing karts. As fate would have it, Ferrari chief test driver Dario Benuzzi took Bertolini under his wing and taught him how to "understand all aspects of a car's handling in the shortest time possible."
Benuzzi's positive assessment of Bertolini gave the latter the opportunity to be in charge of the development of the 360 Challenge Stradale. Since then, he has been part of the development of other Ferrari road cars like the LaFerrari.
Bertolini's main role, however, is to shake down the customer-owned Formula 1 cars after they undergo their periodic maintenance service and before they are driven by their owners.
"When Ferrari began selling its old Formula 1 cars, while still maintaining and preserving them in the garage, I was involved in the project," Bertolini told Ferrari.com. "A driver was required to test them while they were being worked on. I still remember the first Formula 1 car I drove, a 1995 412 T2. It was an incredible car, 12 cylinders, really well made, to the point that, when he tested it for the first time, Michael Schumacher, who had just joined Ferrari, asked how it had never won the world championship. I still remember that day very well."
Continue reading below ↓
Recommended Videos
The oldest Formula 1 car Bertolini has had his hands on is the 312 B3-74 from the 1974 season, calling it "like a kart, but a bit bigger and more powerful." Bertolini also loves the F187/188 from the 1988 season, the last turbocharged Ferrari prior to the current F14 T, because it was "easy to drive and incredibly agile despite its traditional gearbox." As for the F1-90, Bertolini describes it as the epitome of Ferrari's "essence of the ability to innovate."
When he's not busy driving customer Formula 1 cars, Bertolini not only helps develop Ferrari and Maserati's GT racing cars like the Maserati MC12 and the Ferrari 360 GTC, he also races them.
"When one of our main customer teams asks the company, I go and race their car," Bertolini added. "This year, with prestigious teams such as AF Corse and SMP, I'm racing in the European Le Mans Series, in the World Endurance Championship, in the American USCC series, and I took part in the Spa-Francorchamps 24 Hours in the Blancpain series. Alongside their drivers, I try and get the best possible result. They really are great experiences."
Who wouldn't want to get paid driving Ferrari race cars?