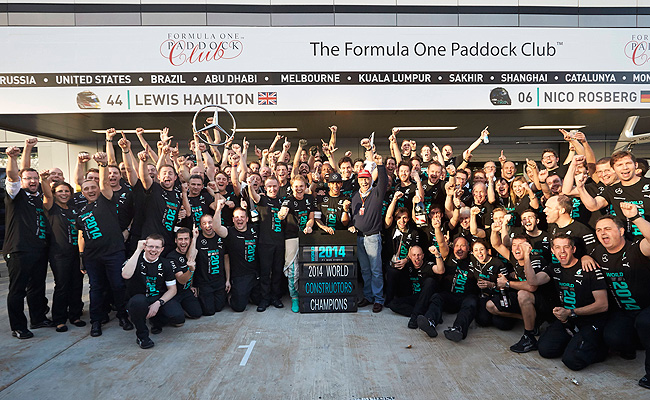 The Mercedes-AMG Formula 1 team is the 2014 Formula 1 constructors' champion after its drivers Lewis Hamilton and Nico Rosberg scored another 1-2 finish in the inaugural Russian Grand Prix yesterday.
With only three more races to go, the 1-2 finish gave Mercedes-AMG an insurmountable 223-point lead over second-placed Red Bull Racing.
Mercedes-AMG's dominance in the sport this year is not only proven by the team winning 13 of the 16 races, but also by the fact that all top five finishers in the Russian Grand Prix were powered by Mercedes-AMG engines.
"It is a time of great pride and satisfaction to mark the first-ever Formula 1 constructors' championship to be won by a Silver Arrow," said Daimler AG chairman and Mercedes-Benz boss Dieter Zetsche. "This victory is the product of many years of hard work combined with great commitment and exceptional engineering skill. And it has additional meaning for a manufacturer like Mercedes-Benz to succeed in a year of technological change."
It should be noted that this is the maiden constructors' title for a Mercedes-Benz works team. Juan Manuel Fangio won two championships as a Mercedes-Benz driver in 1954 and 1955, but the constructors' championship was not awarded until 1958.
Continue reading below ↓
Recommended Videos
As an engine supplier, Mercedes-Benz powered the following teams to the constructors' championship: McLaren (1998) and Brawn (2009).