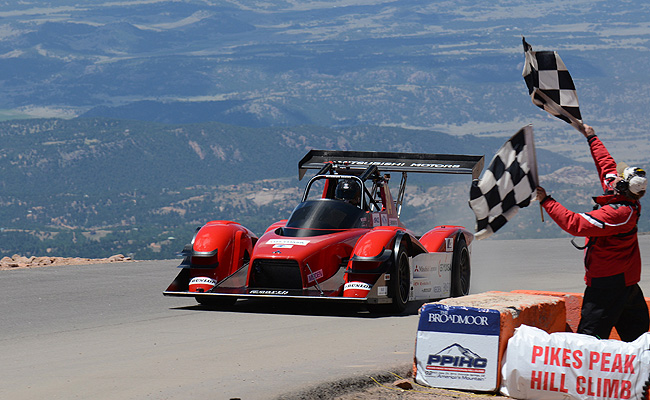 A pair of Mitsubishi MiEV Evolution III all-electric prototype race cars finished first and second in the electric vehicle division of the 2014 Pikes Peak International Hill Climb race.
Finishing in first place was six-time Pikes Peak motorcycle champion Greg Tracy with a time of 9 minutes and 8.188 seconds, a new record for the category and just 2.4 seconds behind overall 2014 Pikes Peak race winner Romain Dumas and his gasoline-powered Le Mans sports car prototype.
Tracy's victory also makes him the first-ever competitor in the event's long history to record a sub-10-minute lap time in both two- and four-wheel racing categories. He finished the course on a Ducati in the 2012 running of the race at 9 minutes and 58.262 seconds.
Finishing behind Tracy in the EV division was Japanese rally racing legend and one-time Manila visitor Hiroshi Masuoka with a time of 9 minutes and 12.204 seconds.
"I am extremely happy to be able to deliver this Electric Modified class victory to Mitsubishi Motors," said Tracy. "This win means that I am a winner both in two-wheel and four-wheel vehicles, transitioning toward four wheels because I really wanted to race with an electric vehicle. The Mitsubishi Motors team prepared a fantastic race car for me. I want to thank the team and also Masuoka-san who helped to develop this phenomenal race car to capture this win."
Continue reading below ↓
Recommended Videos