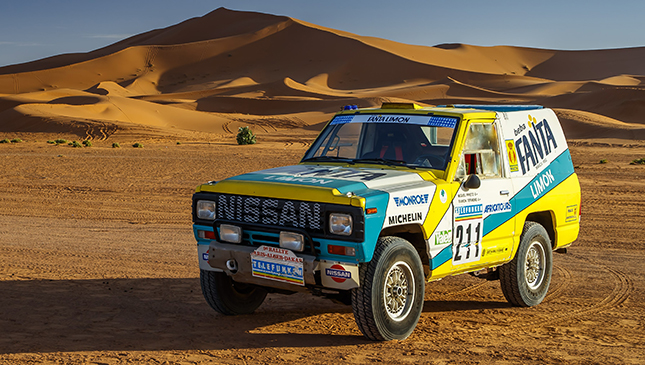 Thirty years ago, Nissan fielded a Patrol 4x4 in the grueling 1987 Paris-Dakar Rally. The SUV went on to win the competition's diesel category and became the first-ever diesel-fed car to make it to the top 10, taking ninth place. An icon was born on the sands of the Sahara Desert that race, and this year it makes a comeback.
The Japanese carmaker's European Technical Center (NTCE) in Barcelona, Spain, spent two years--mostly on its engineers' spare time--restoring the legendary Patrol Fanta Limon truck back to its former glory. After countless hours being transformed from museum piece into a functioning vehicle, the off-roader was finally taken to the sands once more.
"That was a proud moment," said NTCE team manager Pedro Illan--the only original 1987 team member still working there. "Our brains, hearts and souls have gone into this project, and it has not been easy. But to see the car in the desert again was just fantastic."
It was back in 2014 when the idea of restoring the patrol Fanta Limon first came up, after technicians from the NTCE spotted it on an internet forum. It was sitting inside a private auto museum in Spain for three decades. With the 30th anniversary of the 1987 Paris-Dakar Rally fast approaching, the NTCE technicians contacted the aforementioned museum to request for the vehicle back.
Juan Villegas, who was part of the NTCE restoration team, explained some of the work that went into bringing the off-roader back to life: "The engine was in terrible condition. It was impossible to start, and many parts were heavily corroded. The front axle was quite damaged, but the worst thing was the electrics, which had been badly attacked by rats. We wanted the car to be accurate in every way, and were lucky to get the very old drawings and service manuals from NTCE. We followed all the fine adjustments to get the exact Paris-Dakar race set-up."
The entire project was paid for by Nissan's 'Performance Innovation' fund. Today, all of the top cars in the Dakar Rally are diesels--the Patrol Fanta Limon undoubtedly paved the way. What a way to pay tribute to a true off-roading icon.