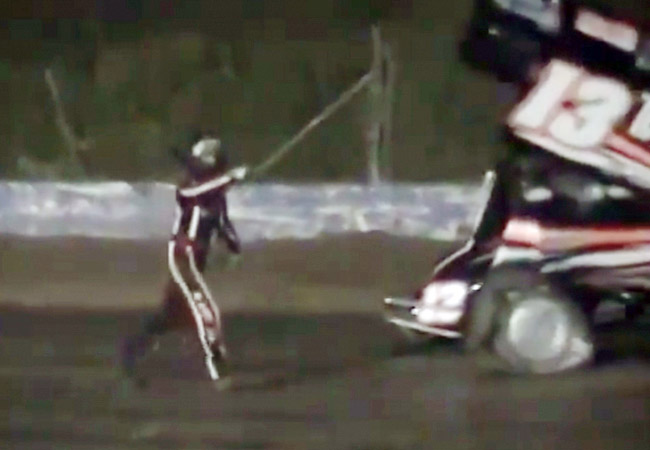 The latest news from the US motorsports scene is the gruesome incident involving veteran NASCAR champ Tony Stewart and the much younger driver Kevin Ward Jr. It happened in a sprint car race in upstate New York.
Sprint car racing is held on a slippery dirt oval, and these brutally powerful race cars are easily identifiable by their massive--and lopsided--front and rear wings. This grassroots motorsport has a lot of history, and the vehicles are very unique. The fact that steering is done with judicious use of the throttle, and that these cars don't have a traditional transmission--drive is direct and you are either in gear or out of gear--makes for a crowd-pleasing and frantic sideways spectacle.
You can watch a video of the incident here, but be warned that you will see Ward being thrown under the massive rear wheel of Stewart's car, and then tossed aside like a rag doll. If you can't stomach that, don't click on the link. Ward was pronounced dead at the hospital.
ADVERTISEMENT - CONTINUE READING BELOW ↓
So, what exactly happened? We aren't claiming to be experts of dirt-oval racing, but a few things are painfully obvious. After Ward appeared to be forced into the wall by Stewart and crashed his car, he stepped out of the cockpit and was furious. His body language said it all. The caution flag had already been raised, but competitors were still circling the dirt oval at speed.
Ward, probably in a righteous rage, and with his adrenaline pumping, wanted nothing more than to give Stewart a piece of his mind. What he did was like walking into fast-moving traffic. This was a huge mistake.
Things took a devastating turn a few moments later. Ward eyeballed Stewart's car and appeared to walk straight into the car's path. Stewart then gunned the throttle and threw the tail of his car out. Ward was caught in the massive rear wheel. At first viewing, it looks like Stewart mowed down Ward on purpose. It is shocking, but we must not jump to conclusions.
ADVERTISEMENT - CONTINUE READING BELOW ↓
Recommended Videos
At best, Stewart probably didn't see Ward at all and reacted accordingly--by trying to avoid him. Do remember that steering a sprint car requires the throttle, and that's what we see happening in the video. At worst, perhaps Stewart only meant to taunt Ward with a rev of the engine and little tail action, only for things to go horribly wrong.
We would hate to think that Stewart would throw his career and life away by deliberately killing someone, but unfortunately for him, he has a reputation for being a bit of a hothead in the NASCAR arena. Even if this was all an accident, it will always be at the back of people's minds.
One thing is for sure, however. Ward shouldn't have walked out into the middle of the course.
We can read all of the theories and perhaps even come up with our own. But in the end, we weren't in Stewart's cockpit with him. Whether it was purely an accident or a taunt gone horribly wrong, fact of the matter is he killed a man. That is something that will probably haunt him for the rest of his life.
ADVERTISEMENT - CONTINUE READING BELOW ↓
This is a sad moment for motorsports.