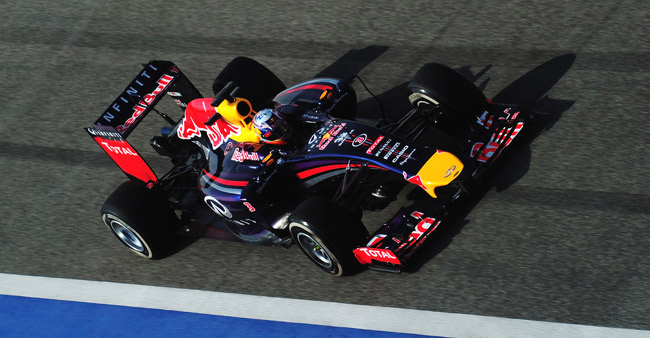 Those who've read our Formula 1 season primer in the March 2014 issue should already have a good knowledge of the mammoth changes in the sport's technical and sporting regulations this year. Good job--but you might want to add these last-minute rule tweaks we expect to see in this weekend's Australian Grand Prix. They have to do with qualifying, to be specific.
Let's review the current Saturday qualifying format:
* Each car gets a total of six sets of dry tires--three each of primes (slower but long-wearing) and options (faster but quick-degrading). They can use the tires however they see fit, but the same six sets are the only tires they can use in the race, too.
* Q1, the first part of qualifying, is participated in by all 22 cars, and eliminates the six slowest drivers at the end of 20 minutes. Those six drivers will start from grid slots 17 to 22 on Sunday's race.
* The remaining 16 cars proceed to run in Q2, a 15-minute session that again knocks out the six slowest drivers. Those six drivers will occupy slots 11 to 16 on the starting grid.
* The final cars then vie to set the fastest lap within a 10-minute period in Q3, which determines the top 10 starting positions.
Continue reading below ↓
Recommended Videos
* The 10 drivers who make it to Q3 must start the race on the set of tires they've used to clock in their fastest Q3 times, while the rest of the grid may start on whatever kind of tire they want.
In the Pirelli area, some drivers who make it to Q3 opt not to do a lap at all in this session, because having no time on the board means they get a free choice of starting tire and, as a result, more flexible tire-strategy options. The F1 Strategy Group has thus approved the following qualifying tweaks to ensure more running in Q3:
* Q1 will now last 18 minutes; the two minutes taken from it will be added to Q3, making the final session 12 minutes long. The 15-minute duration of Q2 will be unchanged.
* The 10 drivers who make it to Q3 will have to start the race on the set of tires they've used to clock in their fastest Q2 times.
* Extra tires will be provided to the 10 drivers who make it to Q3. These tires may be used only in that session and not in the race.
The Strategy Group approved the said changes at the end of February, after which the matter was passed on to the FIA's World Motor Sport Council for ratification in time for the Australian GP. But while no official confirmation of ratification has been given as of this writing, a report by Autosport.com stated that it "will [only] be a formality" because FIA president Jean Todt had declared that "he fully backed the changes."
"It's constructive to have a little review of qualifying," Todd had said. "Some people say, 'No, we cannot go out in Q3 because we don't have enough tires.' We are not talking about getting involved in a revolution. By doing a little refinement, a little fine-tuning, we can get at something [better]."
We shall update this article should the FIA release an official statement.
UPDATE: The FIA has officially green-lit the revised qualifying format ahead of the Australian GP. Apart from the tweaks enumerated above, here are additional details regarding tire allocation and usage. The 10 drivers who make it to Q3 will be provided an extra set of option tires each. A set of extra option tires will also be provided to every driver who does not make it to Q3. These tires may be used during the race.
Photo from Infiniti-Red Bull Racing