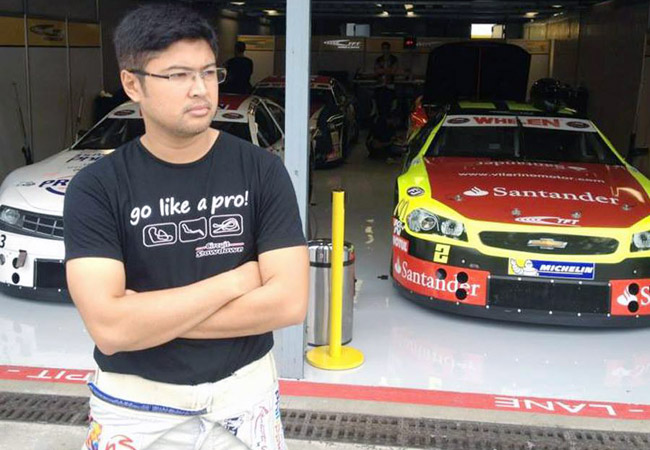 Filipino race car driver Enzo Pastor was reportedly shot dead last night in Quezon City by unidentified gunmen said to be riding in tandem on a motorbike. Pastor, a former Asian Formula 3 driver who also competed in the Macau Grand Prix, was a passenger in a tow truck that was hauling an Asian V8 car to Clark International Speedway when his assailants accosted Pastor's vehicle at a stoplight on the corner of Congressional Avenue and Visayas Avenue shortly before midnight. The hitmen reportedly opened fire at Pastor as soon as he got out of the tow truck. (At the bottom is the scene of the crime, photographed by a bystander.)
Aside from actively racing--his last race series being the Asian V8 Championship organized by his father Tom--Pastor had been busy championing grass-roots racing through his Circuit Showdown series. He was 32 years old.
As we write this, Pastor's friends have already taken to social media to express their grief.
"My heart aches so bad," posted Marc Peter Thomann on Facebook. "My friend was taken from me...from us all. It's like losing my brother all over again. Oh God. Please let this be just a bad dream."
"Shocked literally from the news I just got," posted Onyl Malabanan. "Very sad day."
Continue reading below ↓
Recommended Videos
"You didn't tell me that the first time I would get to race with you would be the last," posted JP Castellano. "We are devastated. We can't believe that you're gone. It was an honor knowing you, learning from you, racing with you. Put in a good word for us over there on the other side. We love you, bro Enzo Pastor."
Top Gear Philippines commiserates with the Pastor family as well as with the local motorsports community. We will give you the details of the wake as soon as they're available.
UPDATE: We just saw graphic photos of the crime, and we'd like to correct the part that says Enzo got out of the tow truck. The photos clearly show that Enzo was shot while he was in the driver's seat.
Top photo from Tom Pastor's Facebook page; bottom photo by Larry Castillo