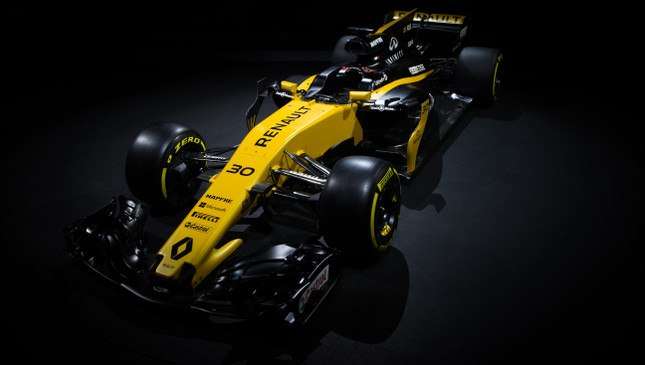 Pointed noses and shark fins are still the hallmarks of the latest Formula 1 cars to be unveiled ahead of the 2017 season, as shown by the Renault RS17 and the Force India VJM10. These follow the recent launches of the Williams FW40 and Sauber C36 .
Competitors and F1 fans alike will be watching for the all-new power unit propelling the black-and-yellow RS17. Dubbed the RE17, it is claimed to be 95% different from its 2016 counterpart, which had evolved from the turbo V6 hybrid system first introduced in 2014. The new power unit has a completely redesigned 1.6-liter turbo V6 and energy recovery system.
Continue reading below ↓
Recommended Videos
Another new addition this year is four-time champion and former Renault driver Alain Prost, who will be serving as a special advisor and member of Renault Sport's executive committee. The Frenchman clarifies that his is more a behind-the-scenes position rather than a hands-on job. "He will bring to the team his great experience, great network, and also an ability to talk with the drivers, and having a specific network for that," says Renault Sport president Jerome Stoll.
Teaming up with Jolyon Palmer is Nico Hulkenberg, who is transferring to the French outfit from Force India. Renault is the German driver's fourth team since his F1 debut in 2010; he had also previously driven for Williams and Sauber.
Meanwhile, taking Hulkenberg's vacated seat in Force India is Esteban Ocon from the now-defunct Manor Racing. He will be driving alongside veteran Sergio Perez, retained for the fourth year running in the Silverstone-based squad.
With the VJM10, Force India is aiming to improve upon its best-ever performance of fourth place in the 2016 constructors' championship. The 2017 car continues to enjoy the use of a Mercedes power unit, and, thanks to the new aero-focused regulations, it is expected to be much faster, "like going from GP2 to F1," according to Perez.
For this reason, he has had to step up his fitness regimen. "Basically, it will be a lot more demanding," the Mexican driver explains. "The g-forces in the races we will develop with these cars are quite high. You have to have endurance and strength, and working in many different areas, you have to be strong and have the reaction [to be] ready for anything. So, we do a lot of neck exercises, a lot of training and endurance, cycling and running, all kinds of things."