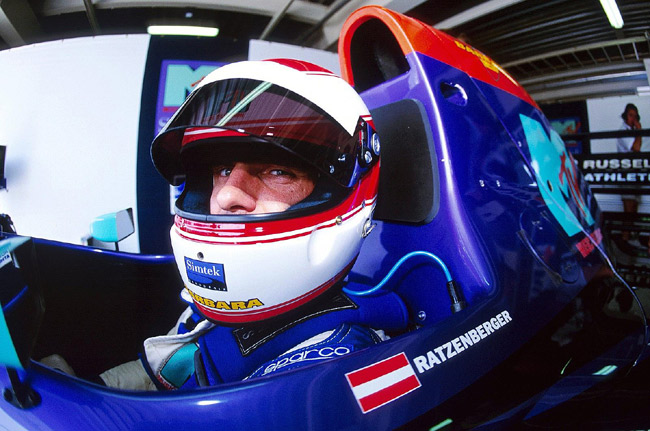 Tomorrow, May 1st, marks the 20th year of Ayrton Senna's passing. And as it did then, the untimely demise of the Brazilian Formula 1 legend still overshadows the other tragic event that happened during the 1994 San Marino Grand Prix: the fatal accident of Austrian rookie Roland Ratzenberger on April 30th.
Speaking to Bleacher Report, David Brabham, son of three-time Formula 1 champion Sir Jack Brabham and Ratzenberger's MTV Simtek Ford teammate in 1994, weighed in on the issue: "It's just the nature of the beast, really, that more people will gravitate toward Senna than they will toward Roland, except the people who were very close to Roland," he conceded. "They'll see it differently, but in terms of people who are in love with F1, Senna touched everybody's heart and soul, so it's inevitable that people will be thinking more about the loss of Ayrton than they will Roland. Whether that's fair or not, it's not for me to judge. It's just the way it is."
There's a harsh but plain truth to that sentiment--it's just the way it is in a double-tragedy involving a revered three-time champion in his 11th season and a relative unknown in his first year of top-level competition. Still, that doesn't make Ratzenberger's death of lesser consequence, or his life and career a mere footnote to the so-called Black Weekend of Formula 1. Here's a look back at his short but well-fought career in motorsports.
Continue reading below ↓
Recommended Videos
* Born on July 4, 1960, Ratzenberger began his on-track exploits relatively late at the age of 23. While he often lied about his age so as not to be written off by team personnel who preferred younger talent, he made up for fibbing and lost time by bagging titles in the German, Austrian and Central European editions of the single-seater Formula Ford championship.
* After moving to England and finishing second in the 1985 Formula Ford Festival at Brands Hatch, Ratzenberger won the event in 1986. A couple of lean seasons in British Formula 3 followed, then a step up to British Formula 3000 in 1989 yielded a finish of third overall. Ratzenberger also enjoyed a spell of popularity in the UK for having a name somewhat similar to that of TV puppet character Ronald Rat, on whose show he even guested for a motor race.
* Ratzenberger supplemented his single-seater run with appearances in other motorsport formats. He competed in the inaugural season of the World Touring Car Championship in 1987, with a best finish of second place for Team Schnitzer. His steed then was a BMW M3, and he drove the same model when he competed in the British Touring Car Championship (1989) and the Japanese Touring Car Championship (1990 and 1991), albeit for different teams.
* The Austrian had a go at endurance sports-car racing, too, starting with the 1989 edition of the 24 Hours of Le Mans. He made five consecutive appearances in Circuit de la Sarthe's most famous event, and his best result was fifth place in 1993, co-driving a Toyota 93C-V for the SARD team. It was likewise with SARD that he competed in the All Japan Sports Prototype Championship, winning two 1,000km events: Fuji in 1990 and Suzuka in 1991.
* The Japanese Formula 3000 series was another practice ground for F1 aspirants, and Ratzenberger competed there in 1992 and 1993 against eventual big names like Eddie Irvine, Heinz-Harald Frentzen and Mika Salo. While he never finished higher than seventh overall, he scored two pole positions and one victory for Stellar International in his maiden season.
* Also in an interview with Bleacher Report, British racing driver Anthony Reid narrated one of Ratzenberger's finest moments on the track--and it didn't involve wheel-to-wheel action. This was during a Japanese Formula 3000 test at Fuji Speedway in 1992. "I was out there trying to prove a point...but I overcooked it, coming into a corner that's called 100R, down around the back of the pits. It's an extremely fast corner with hardly any run-off, and if everything's just perfect, you might take it flat-out at around 150-160mph (241-257kph)," Reid explained. "Halfway through the corner, I got what we call a 'tank-slapper,' where the car became unstable and started to spin, and I hit the barrier so hard it knocked my crash helmet off...and the car shot 25ft into the air and turned over. The guy immediately behind me was Roland, and he had to swerve to avoid being crushed by my car as it came down on the track upside down, with me without a crash helmet. And my head actually skimmed the road at 150mph. There was a lot of blood on the circuit, and when the dust settled after the accident, the Japanese marshals didn't bother moving to get me out of the car because they just assumed I was dead. But it was Roland Ratzenberger and Paulo Carcasci--the two cars behind me--who stopped and got me out of the wreck and organized an ambulance. I woke up halfway to the hospital. I wrote a letter with that story to Roland's parents after he died at Imola, just explaining how he'd helped save my life."