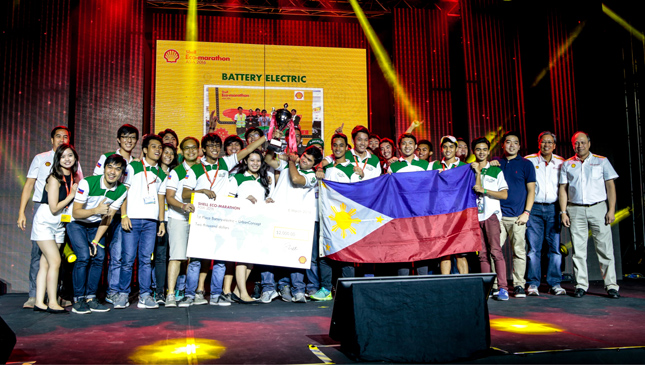 A total of 117 students from 17 countries across Asia, the Middle East and Australia convened in the Philippines a little over a week ago for Shell Eco-Marathon Asia 2016. With that much competition, you can bet that the Filipino representatives had their work cut out for them. Contestants were aiming to set new mileage records on the streets surrounding Rizal Park in Manila. So, how did our kababayans do this year?
The best performer among the Philippine teams was the DLSU Eco Car Team. The team managed to squeeze out 78km/kWh from its vehicle, enough to have them ranked first in the battery-electric fuel category. The DLSU team bested Bumi Siliwangi Team 4 and NTU Singapore, which placed second and third in the category, respectively.
Another team from De La Salle University, DLSU Eco Car Team ICE, managed to place second in the Urban Concept Shell Fuel Save gasoline fuel category. Team ICE averaged 158km/L, but was trumped by Universitas Indonesia's Sadewa team, which did 275km/L. In the prototype gasoline category, team Aguila from the Mapua Institute of Technology managed 335km/L, also good for second place.
For the competition's diesel fuel category, team Lahutay 4 from the University of San Carlos placed third with an average mileage of 106km/L. Lahutay 4 was bested by Tajima Technical Institute's Clean Diesel Team from Japan and Tongji University's Zeal Eco-Power Proto from China, which placed first and second, respectively.
Continue reading below ↓
Recommended Videos
The big winner in this year's Eco-Marathon was team How Much Ethanol from Panjavidhya Technological College of Thailand. They managed to grab first place in the Prototype Alternative Fuel category with a whopping 2,040km/L--roughly the distance between Manila and Bangkok.
The complete list of winners is as follows:
PROTOTYPE CATEGORY
* Hydrogen - UiTM Eco-Sprint (University of Teknologi Mara, Malaysia), 476km/m3
* Battery-electric - NSTRU Eco-Racing (Nakhon Si Thammarat Rajabhat University, Thailand), 507km/kWh
* Gasoline - Nakoela (Universitas Indonesia, Indonesia), 792km/L
* Diesel - Clean Diesel Team (Hyogo Prefectural Tajima Technical Institute, Japan), 1,424km/L
* Alternative fuel - How Much Ethanol (Panjavidhya Technological College, Thailand), 2,040km/L
* CNG - Eco-Chaser (Monash University, Malaysia), 95km/L
URBAN CONCEPT CATEGORY
* Hydrogen - UiTM Eco-Planet (Universiti Teknologi Mara Shah Alam, Malaysia), 91km/m3
* Battery-electric - DLSU Eco Car Team (De La Salle University, Philippines), 78km/kWh
* Gasoline - Sadewa (Universitas Indonesia, Indonesia), 275km/L
* Diesel - ITS Team 2 (Institut Teknologi Sepuluh Nopember, Indonesia), 250km/L
* Alternative fuel - LH-Gold Energy (Lac Hong University, Vietnam), 186km/L
Of all the Filipino participants, only the DLSU Eco Car Team managed to qualify for the Driver's World Championship to be held at Queen Elizabeth Olympic Park in London later this year. The team was one of only five teams to qualify for the prestigious event.
Shell Eco-Marathon global technical director Norman Koch says that he looks forward to seeing teams from Asia compete in the Driver's World Championship. "I'm extremely excited to see five teams from Shell Eco-Marathon Asia clock strong mileage results in order to qualify for the Drivers' World Championship at Make The Future London, and I look forward to seeing them compete against the best in the world," he said in a statement.
Photos by Mark Jesalva